When it comes to shoes, I'm not your average woman, I would rather walk around barefoot or in flipflops for the rest of my days than have to don a pair of high heels. But when it comes to bags!! Now that's a different kettle of fish altogether!! (I don't understand that saying?). I LOVE BAGS!! Hello, my name is Sabina, I am 35 years old and I am addicted to BAGS!! There, that wasn't so bad was it? Big bags, little bags, fat bags, thin bags and then there's CHANGING BAGS!!!!! OMG how amazing are changing bags? They have pockets within pockets and they come in so many fab colours and styles.
When I first became Mummy to Little Bean I would stare in envy at the other Mummies in baby clinic with their Yummy Mummy changing bags and then promptly kick my Graco changing bag under the table and drop my coat over it. Oh to have a Pink Lining bag, a girl could dream and for years dreaming is all I did, until the day I received a message "we'd like to send you a Pink Lining Changing Bag". After checking the email 10 times, yes it was addressed to me I began to type back "do I ever!!!" but then deleted it and calmly wrote "yes please that would be lovely". Then it got lost in the post and I thought my Pink Lining days were over before they had even started but finally we were united and we haven't looked back since. In fact, I have been enjoying my Pink Lining journey so much that I've hardly had time to sit down and write this post!!!
This is my bag – Blooming Gorgeous isn't it! I know because it says so on the front pocket! And when you open it up it's even prettier, just look at all that Pink Lining – hmmm I wonder where they got the name from?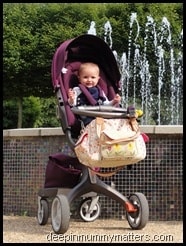 As you know I have two small children and although Little Bean is now out of nappies, I still seem to have a lot of things to carry for her but it all fits into the bag without any effort. I use the pockets on either end of the bag to store their drinks so that I don't get them muddled up and then on the inside there is a wet pouch which I use to store the nappies, wipes and bags. It makes life easier when I want to change Beanie Boy to just grab the bag and have everything to hand without routing around for everything separately. The bag also comes with a plush double sided changing mat with wipe clean surfaces. Like I said, the bag is full of pockets on the inside including two insulated pockets to keep bottles warm. I really like the key chain as it helps me to find my keys quickly when I get back to the car. There is a zipped pocket on the inside for storing money, cards, car park tickets, makeup or whatever else takes your fancy and plenty of other pockets for sun cream, mobile phones, diary, change of clothes for the tiddlers and snacks and of course that still leaves the main pocket empty for whatever else you want to carry with you. There is a strong detachable shoulder strap as well as two handles which can be fastened together with a leather strap. And the best thing about Pink Lining bags is that there are so many designs to choose from! The outer is rainproof which came in handy on Sunday and I can testify that everything inside my bag stayed perfectly dry!
To see all of the lovely designs and start dropping hints to your other half about which bag you want, just click on the link below for Pink Lining heaven!
DISCLAIMER: For the purpose of this review I was sent a Blooming Gorgeous Pink Lining Changing. All words and opinions are my own and may not be copied without my express permission.
Sabina Green began blogging in 2009 as a work at home Mum raising her young family.She loves photography, movies, music, reading and spending time outdoors with her family.
Latest posts by Sabina Green (see all)