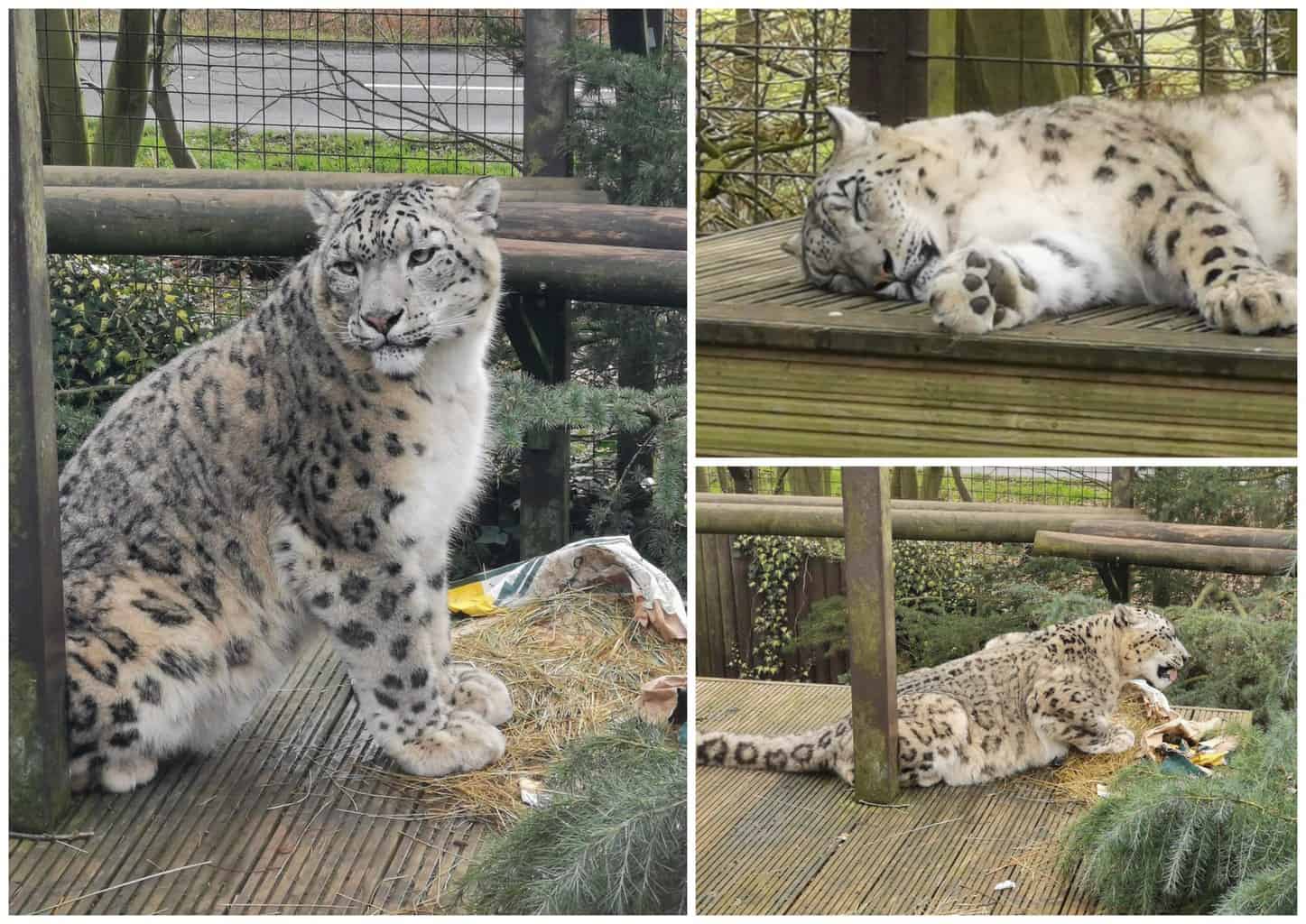 Paradise Wildlife Park Adventures
#ad
Paradise Wildlife Park is home to more than 800 beautiful animals and over 30 life-size moving dinosaurs located just outside of Broxbourne in Hertfordshire. We were invited to spend the day there in exchange for our honest review.
The Big Cats
Whenever we visit a zoo, we always head to the big cats or the monkeys first and a visit to Paradise Wildlife Park was no different. As we approached the main entrance we spotted the Lionesses resting on a rock high above their enclosure and like a magnet, they pulled us in.
Paradise Wildlife Park is lucky enough to call itself home to White Lions, Siberian Tigers, Snow Leopards, Jaguars and Ocelots (although they were too shy to show their face when we visited).
White Lions
Have you ever seen such beautiful creatures? These White Lions held our attention for such a long time as they were so stunning. Their coats looked magnificent, they were so healthy-looking and relaxed.
Snow Leopards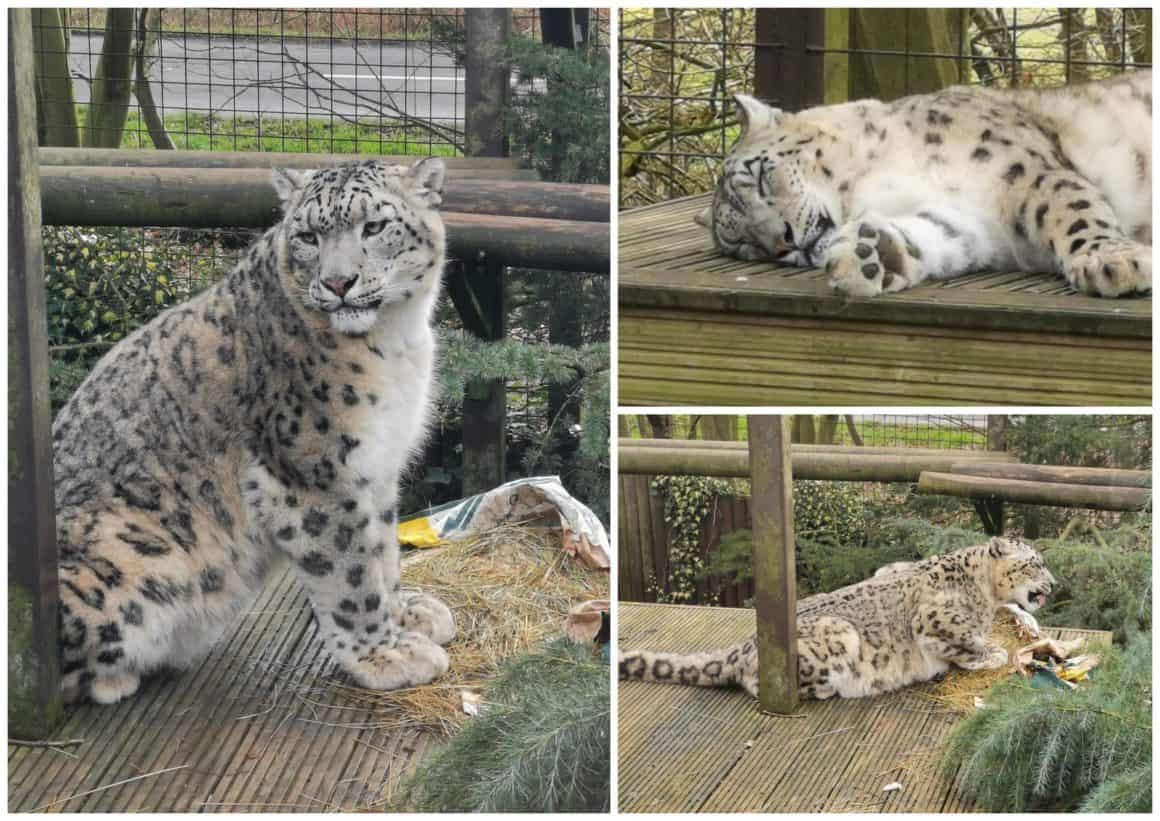 The Snow Leopards look like the ultimate overgrown pussycat, you just want to snuggle up with this one and wrap its tail around your neck. Well, it sounds like a good idea in theory but in reality, I don't think it would be a relaxing experience at all. We spotted two of these beauties, one was languishing at the back of their enclosure whilst the other was munching their way through a bag of food (and he didn't look like he had plans to share).
Siberian Tiger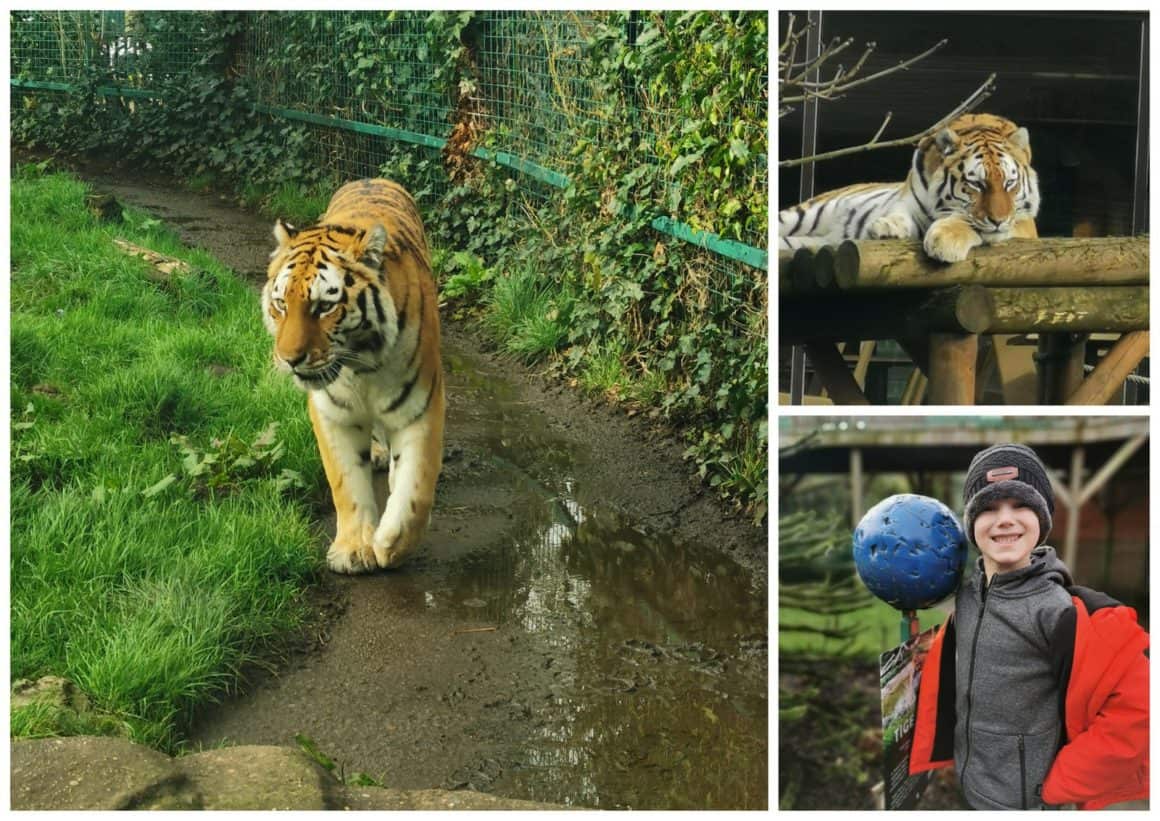 The Siberian Tiger was a little trickier to spot initially as he kept hiding behind the bushes but with a bit of patience, Ollie and I were rewarded when he walked right past the window where we sat. Albie was eager to show me this ball which had been given to the Tiger cubs for just two weeks of play. It's chilling to think of the power of their jaws because this ball was not squishy in the slightest!
World of Dinosaurs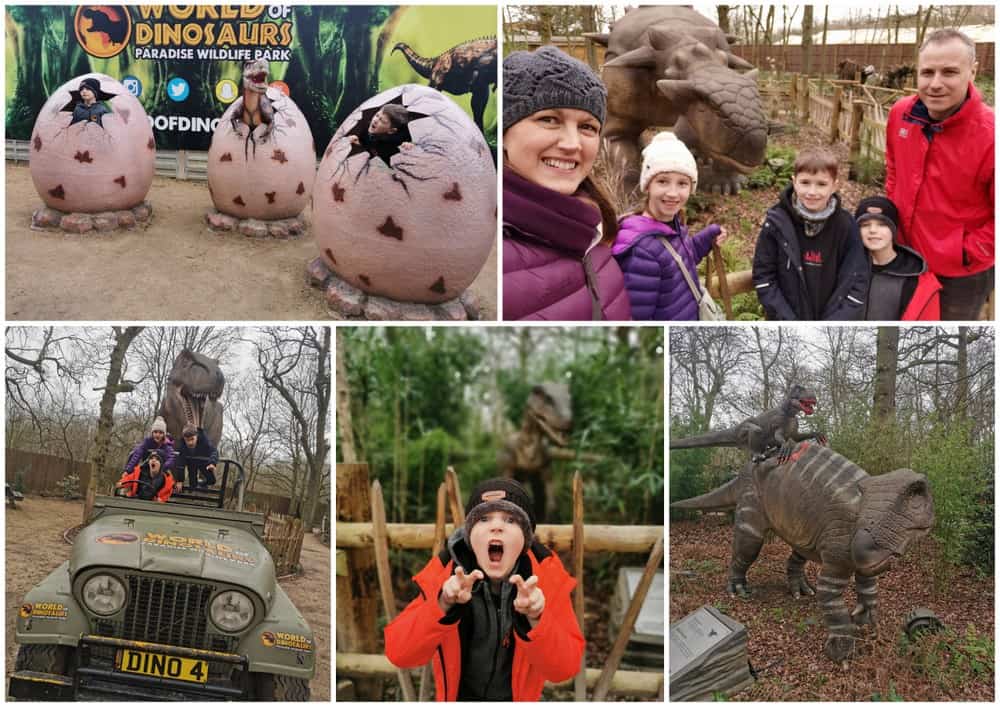 Paradise Wildlife Park is like two days out rolled into one because it's more than just a zoo. On the other half of the park is the World of Dinosaurs. Albie, in particular, was very excited about this aspect of the day and he wasn't disappointed. With more than 30 life-size dinosaurs dotted around, there was a lot to explore. From the moment you walk through the Jurassic Park style gates you come face to face with Dino daycare and an excavation area where little explorers are invited to dig and brush their way through the sand to uncover the dinosaur bones. This provided the perfect opportunity for Simon and me to enjoy a coffee whilst the Beans were busy.
Further inside the World of Dinosaurs, we were greeted by the Pterodactyls and Baryonyx. As you approach the dinosaurs they begin to move. The pterodactyls flap the wings and move their heads. Further around we also got to see the triceratops, iguanodon, my favourite the diplodocus and of course the T-rex!!
Crazy Golf, Adventure Play and more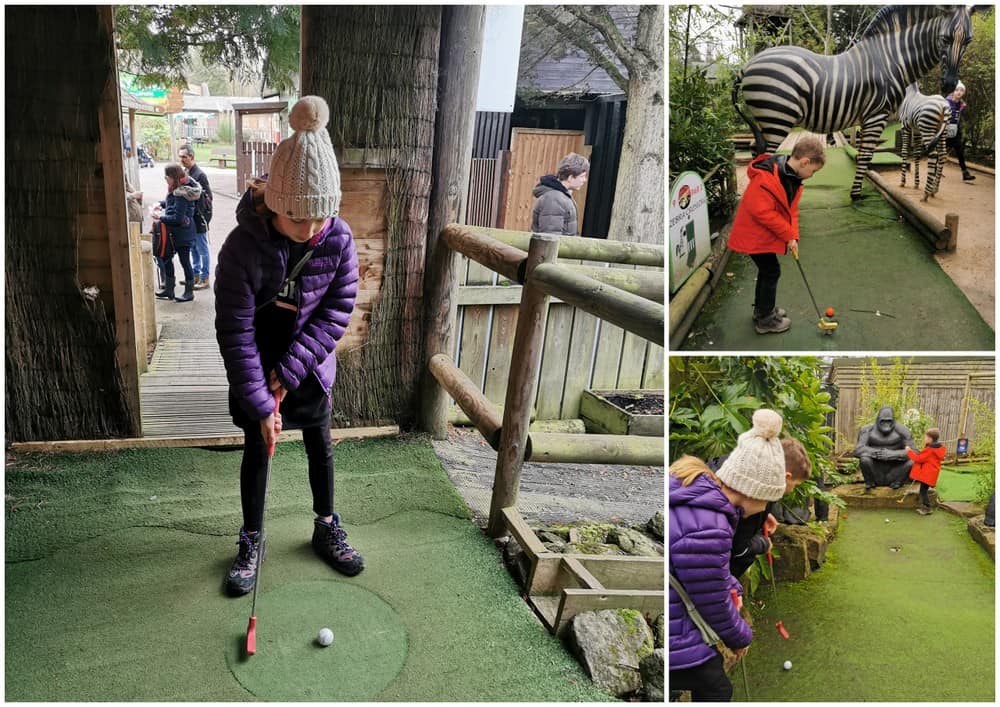 My family can sniff out crazy golf at 100 paces, so they spotted this one on the map the moment we arrived and there was no way we were leaving without playing. You have to hire the clubs and ball from the Dino Cafe on the other side of the park.
As well as the crazy golf, there's an adventure play area, a dino train, climbing frames, slides, a water splash park (although this was closed during our visit since it was freezing cold), indoor soft play and so much more.
Building Work
At the time that we visited, we were disappointed to see that the Rainforest exhibit was closed along with a couple of others however they were being updated and there was lots of building work going on around the park. Whilst this can change your experience of the Park, it's also really nice to see that money is being spent on the park to improve living conditions for the animals and ultimately make it a better experience for visitors too.