Pampers, Unicef and the elimination of Tetanus!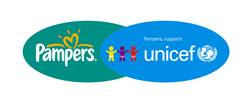 It was 5 years ago that Pampers made a long-term commitment to Unicef in their campaign "1 Pack = 1 Life-saving Vaccine".  Every year throughout October, November and December for every pack of Pampers purchased, Pampers donate the funds necessary to provide a life-saving vaccine in the fight against maternal and newborn tetanus.  Newborn Tetanus, known as "the silent killer" is a real threat for newborn babies in the poorest areas of the world, claiming one newborn baby every 9 seconds because their mothers don't have access to healthcare and immunisation services.  To date Pampers parents have helped to save the lives of 100 million women and their babies world-wide, reaching 21 countries across 2 continents.  It was recently reported that Myanmar in South East Asia has successfully eliminated maternal and newborn tetanus – how amazing is that?  This will also protect the future generations in this area, so many lives have been saved we should all feel proud and give ourselves a pat on the back.
We still have a long way to go though with 170 million women and their babies still in danger.  With the support of Pampers parents we can try to make a difference in other areas too.  All you have to do to help is purchase a pack of Pampers which carries the "1 Pack = 1 Life-saving Vaccine" logo, Pampers and Unicef will do the rest.  We are a long way from the finish line, but the more people who get involved the closer we are to eliminating Newborn Tetanus globally.  Myanmar is just the tip of the iceberg – what are you waiting for?