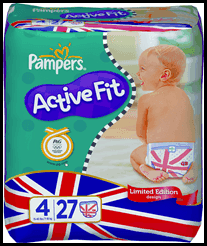 Pampers Little Athlete and Paula Radcliffe
Three weeks ago Little Bean, Beanie Boy and I set off on our first London adventure with Karin, Ella and Sam (since Sam was born) and it was a great reminder of the good old days. The sun was shining, the children were all in good spirits and we had a fun day to look forward to in the company of the Pampers Team, Paula Radcliffe and Dr. Maggie Redshaw, Pampers Parent Panel Development Expert. Our destination was the uber stylish Covent Garden Hotel where play experts would be entertaining the children leaving the Mums to get down to business (and lunch!).
On our visit to London we enjoyed a very relaxed lunch with Paula where she talked openly about her life as Mum of two and a marathon runner. You may be surprised (as I was) to learn that Paula doesn't have a live-in Nanny to help with the children. Paula or Gary will take Isla to school at 8.30am and then at 9.00am a childminder will come for 3.5hrs each morning to look after Raphael whilst Paula and her Husband/Trainer Gary go out for the morning's training session. At 12.30pm the childminder will leave and the family have lunch. At 5.30pm Paula will do another 90mins of training whilst Gary looks after the children, followed by 35 minutes of core exercises in the lounge with the children. Bedtime routines are no different from perhaps yours or mine, bath, stories and bedtime. For Paula, running isn't just a hobby, it's her full-time job and so she has to make sure that she puts in the hard work to achieve the results. Paula has a day off every 8 days and on her rest days will either spend time with Gary and the children or she might have to attend press functions. Paula and Gary are actually no different from normal married couples with children, they share the responsibilities of caring for and entertaining their children and they work hard to provide for their family.
Paula shared with us how, after giving birth to her daughter, Isla, 4 years ago, she felt she returned to her training schedule too quickly (10 days) and as a result received a stress fracture in her sacrum. After giving birth to Raphael she waited a little longer (2-3weeks) and then began water based running to support her body. She definitely found it harder to recover the second time around though and breastfed both children for their first 6 months.
Speaking to Paula about her own childhood, she said that her parents said she ran as soon as she could walk and that her Dad was also a marathon runner so from the age of 6 or 7 she would run with her Dad and at the age of 9 she joined a running club. Paula said that she thinks its important to let children choose their own activities and where possible to do a variety of activities. Paula used to do Judo as well as running when she was a child.
When asked about who she looked up to, Paula said that her Grandma was her biggest inspiration, she was born on her Grandma's birthday and her Grandma taught her that you have to work hard if you want to achieve your goals. Others included Grete Waitz, Steve Cram, Liz McColgan and Jane Tomlinson.
I was very surprised to hear that Paula is asthmatic but obviously this does not stop her running. Sometimes she might have to use a nebulizer to help her in extreme cold or high altitude.
All in all I think it was fair to say that Paula was an extremely down-to-earth Mum, it felt no different sitting talking to Paula than it did talking to all of the other mothers in the room (except of course that Paula had a beautiful tan, was very slim and is exceptionally fit!).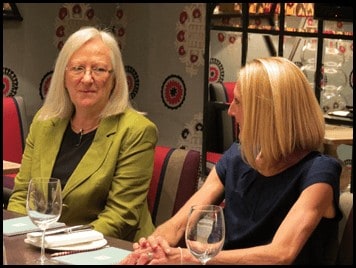 After lunch we then spoke with Dr. Maggie Redshaw, who is a Developmental Psychologist. Maggie explained the importance of play in teaching the children confidence, speech and sociability as well as encouraging their imagination. She suggested setting up 2 or 3 structured activities throughout the day but not to overload them. It is just as important for the children to find their own ways to play. Take them to places which will inspire them, the park, the beach and woodland are all great places to play.
At home Maggie suggested changing the children's toys around on a rota system so that they don't get fed up playing with the same toys constantly. All too often we complain that our children don't appreciate their toys but perhaps this is because they are always there. By not rotating them we are not giving them a chance to miss their toys and rediscover them weeks/months later.
Parents can learn a lot from how their babies play, and how best to support and nurture their own unique spirit of play. That's why Pampers has developed the Pampers Little Athlete campaign. Created with the help of Dr Maggie Redshaw, the campaign provides parents with tips and advice on how to encourage their babies' play, through a series of online videos, featuring Paula Radcliffe and her son, Raphael.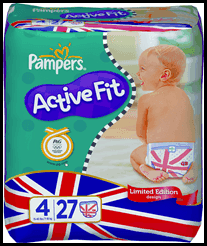 This year will see the world's greatest athletes compete in the London 2012 Olympics (kicking off in 100 days!!!) and so to commemorate this huge event Pampers are introducing a Limited Edition GB Design Active Fit Nappy so that Mums and babies can display their national pride.
Pampers Active Fit nappies feature a unique 3-way fit for optimal leakage protection on the legs, waist and bottom and are the high-performing play gear that helps enable babies to play at their best.
"I understand the importance of having the right kit to help me achieve my athletic potential," says Paula Radcliffe. "Pampers Active Fit is the perfect fit for my little athlete as it helps him play the best he can, thanks to its unique 3-way fit."
Pampers (a P&G brand) have teamed up with Marathon Runner and Mum of two, Paula Radcliffe to launch the Pampers Little Athlete Campaign to help mums to celebrate the playtime achievements of their own little athletes.
Did you know?
· A cruising baby can take as many steps as a marathon runner in a race within 24 hours.
[1]
· A crawling baby moves 8 times more than an adult just to get to the same place.
[2]
To find out more about the Pampers Little Athlete campaign go to the Pampers UK & Ireland Facebook page (http://www.facebook.com/PampersUKIre).
---
[1] O'Malley, M. 1996, Normalization of temporal-distance parameter in pediatric gait, J. Biomechanics 29, pp.619-625.
[2] Adolph, K. et al. (1998). "Learning To Crawl: Child Development, 69(5), pp 1299-1312.
DISCLAIMER: I was provided with lunch, a goody bag and my travel expenses were reimbursed for the purpose of this post. All words and opinions are my own and may not be copied without my permission.