Our 'date' at Frankie & Benny's
Before Hubby and I became parents to Little Bean and Beanie Boy we would often eat out at our local Frankie & Benny's because it was right next to the cinema so we could have a pre or post-film meal to really make a night of it. Recently I was asked if we would like to see the new menu at Frankie & Benny's and have a meal at our chosen restaurant. Since our meal and movie days, a new Frankie & Benny's has opened near us so we decided to give them a try as a treat for my birthday.
Date Night
We phoned ahead and booked our table, it would be just our luck to arrive and find there were no tables free and it was a good job we did because the restaurant was almost full when we arrived. The atmosphere seemed to be quite buzzy and the aroma of scrummy pizzas and sizzling meats hit us when we walked through the door, making our tummies rumble with hunger.
We were greeted warmly and shown to our table before being presented with our menus. Now the hard part was to begin as Hubby and I are useless at making decisions, especially when it comes to food! Now if we had planned properly we could have looked at the menus online to make our decision making a little easier! Our order looked something like this;
Starters
Amazing Skins
Mouth-watering and fully loaded. Choose from: BBQ chicken, sweetcorn & cheddar; crispy bacon & cheddar or melted goat's cheese & homemade bruschetta. Served with sour cream on the side.
Garlic & Cheese Mushrooms
Fresh garlic button mushrooms tossed in our rich cheese sauce, served over toasted garlic ciabatta bread. Belissimo!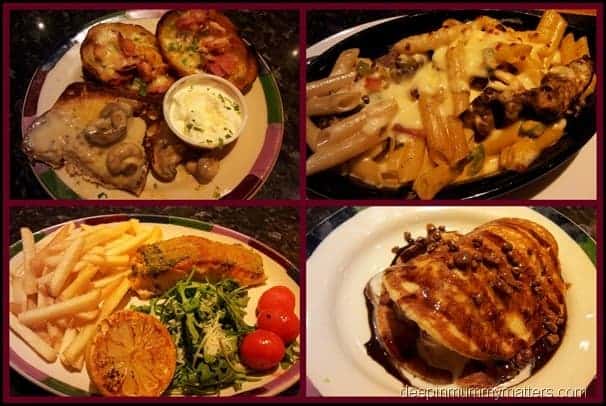 Mains
Philly Steak Bake
Strips of tender steak, red onion, peppers and Philly cheese sauce, oven-baked with penne pasta and topped with cheddar cheese.
Oven-Baked Pesto Salmon
An oven-baked salmon fillet brushed with nut pesto and topped with a citrus crust. Served with roasted cherry tomatoes on the vine and your choice of house fries, salad or a jacket. Fresh rocket and Grana Padano garnish served on the side.
Dessert
Chocolate Pancake
A warm pancake topped with brownies and cream ice cream and drizzled with chocolate sauce.
The whole meal was scrummy and the portion sizes were exactly as I remembered, more than I could eat but I would rather have too much than too little. To say that the restaurant was pretty much full, the service was efficient and we weren't left to wait too long for anything.
I'm not too sure when we will be able to make it back there again but when we manage to get a date night again I think we will definitely be heading back there in the future.