We have been fans of the Nutmeg clothing range from Morrisons ever since it first hit the shops. Nutmeg know EXACTLY what parents are looking for when clothing their children; supersoft fabrics, chunky zips, NO SCRATCHY LABELS, adjustable waistbands, oh and GREAT style!
They choose fabrics which children (and parents) will love in eye-catching colours and create garments which are meant for 'living' in. They are used to the rough and tumble play of children and they wash up really well, so well in fact that Jelly Bean is now wearing some items which have been handed down from Beanie Boy.
Their designs featured a mix of prints and embroidery which make them stand out from the crowd. Little Bean loves the 'girl t-shirts' especially, we buy her new ones of these each season.
Well now I'm offering one lucky Mummy Matters reader the chance to try it out for themselves with a £20 gift voucher (and you'll be surprised by how much you can get for your money with t-shirts starting at just £2!!).
Enter now for your chance to win by completing the Gleam Entry Form below. Enter with a simple comment or do some of the other options for more entries, the choice is yours.
Nutmeg at Morrisons £20 Gift Voucher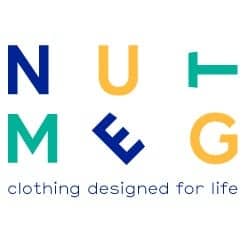 #NutmegatMorrisons