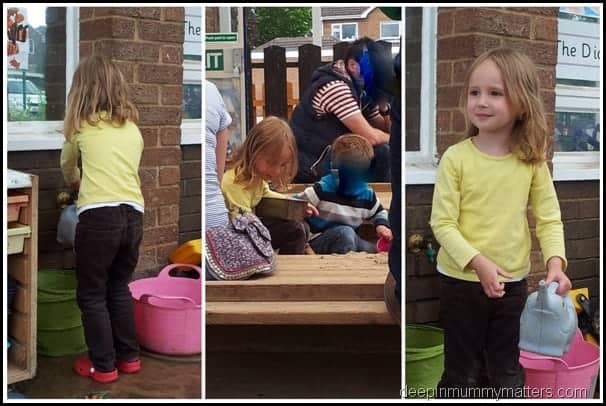 New school taster day disappointment
Yesterday I took Little Bean for her first taster session at the school she has been appointed for next September. Over the recent months since I found out that she didn't get the school we were hoping for I tried to look to the positives and had started to feel better about it all, I even considered withdrawing the appeal that we had registered.
It started quite well when we arrived yesterday, I was impressed with the entry system to the school. When we arrived at the gates we had to press a buzzer to speak to the Receptionist to tell her who we were and then she buzzed the gate open for us. We were greeted outside the reception class by the Teaching Assistant who was lovely, very full of life and and enthusiasm. She greeted Little Bean and made an effort to talk to her and tell her what she could do and asked her if she was looking forward to coming to the school later in the year. Little Bean smiled, said "yes" and then asked if her friend "T" had arrived yet. The TA said she wasn't sure but to have a look around and we might find him.
A young boy from Reception Class approached us and asked very nicely "does your little girl need any help with anything?" to which I replied that she was just trying to find her friend and so he offered to help her. One little girl followed Little Bean around incessantly telling her "T isn't here I've already told you that" but never fear we found him!
After having a look around outside I took Little Bean into the classroom to find her new teacher so that I could introduce them and this is where the disappointment came. I found the teacher and said to Little Bean "this is Miss X and she will be your new teacher when you come here", Little Bean excitedly said "Hello" and smiled at her teacher who simply replied "hello" then casually sunk off into the background. She made no attempt to speak to Little Bean at all and so Little Bean walked off and carried on playing. I then tried to talk to the teacher myself but was met with the same response. I hadn't had a good feeling from her when we went to the new intake meeting a few weeks ago but I hoped that she was better with children than adults but it would appear not. I saw other parents trying to talk to her and spoke to a couple who all seemed to have the same impression of her that she just didn't talk.
When we left school I visited the after school club to see what it was like as there will inevitably be times that Little Bean will have to attend and I was even less impressed with that. Perhaps Little Bean has been spoilt up until now, her currently preschool setting (which is also an out of school club) is lovely, so bright and cheerful with lots of space and fab toys. Myself and another parent asked what "tea" would be at tea club and they said "a biscuit and a juice". The other parent whose child has to attend more often was disgusted as this obviously isn't enough for such a long afternoon and she was told "they have to learn to go longer until they get home". This one just felt horrible and honestly I cried at the thought of her going there, this isn't what I want for my daughter but there is nothing that I can do.
My only saving grace is that Little Bean is completely oblivious to it all, it's me that has the problem with it all not her although she does keep asking when will her friends be joining her but she will get past that in time.
Just to add insult to injury we then had Little Bean's exit parent's evening with her Key Worker in the school that we had applied for, it was totally heartbreaking and even Little Bean said "but I wanted to come to this school Mummy" – queue waterworks from Mummy!!