My girl's got issues . . .
Family, friends and regular readers will know the problems that we have gone through with Little Bean and food.  I thought we were getting somewhere but I'm seriously starting to think my girl's got issues, big issues!!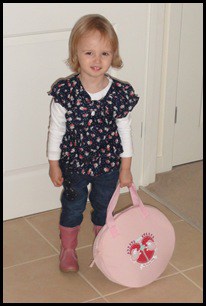 To bring you up to speed, despite attempting to wean her at 6 months as per the Health Visitor's advice, she didn't actually start to accept most purees until 10 months, prior to that she would only eat yoghurt and weetabix.  From 10 months she started to eat stage 1 savoury jars (wouldn't touch home-made and my cooking isn't that bad!).  I tried to progress her onto stage 2 jars but she wouldn't accept it no matter how much I persevered.  I tried mixing baby pasta in stage 1 jars but she would spit out the pasta.  From there I tried baby-led weaning but the only things she would eat were breadsticks, chips and a bit of banana.  She point blank refuses other fruits, vegetables or pasta and basically only eats rubbish – chicken nuggets, chips, turkey dinosaurs, pizza and fish fingers.  For lunch she will normally eat fruit purees followed by custard, yoghurts or chocolate mousses.  We have seen Paediatricians and Dieticians who said not to worry about her, she has still been putting on weight so they said she would just get better over time.
Up until we've been ok with this, I can't say happy because obviously we want her to have a better diet.  I've noticed in the last couple of weeks that she seems increasingly stressed out by food.  A couple of times we have tried to put new food on her plate, we've told her that she doesn't have to eat it but we just want her to leave it on her plate – she freaks out, really freaks out!  Sometimes she will then not eat the rest of her food on the plate because of the new food we have put there.
I've tried doing baking with her, which she loves, but she won't eat the cake at the end of it.  I've tried getting her involved in the preparation of food as well but still she won't eat any of it.  I've tried messy play with food, teddy bear's picnic – I've pretty much tried everything that anyone has ever suggested but nothing will encourage my girlie to try new food.
The behaviour that is worrying me now is linked to Beanie Boy's weaning.  I started weaning Beanie Boy just over a week ago with baby rice and breastmilk.  Little Bean wasn't keen on me giving Beanie Boy the baby rice, she kept telling me "he doesn't like it, don't give it to him".  Over the last week as I have given him other new foods; carrot, butternut squash, sweet potato – her reaction has become worse and worse.  Yesterday I mashed a banana for him to try and she started crying, telling me he wouldn't like it and he doesn't want to try it.  When he ate the banana, I said "look he's ok, he likes the banana" but she carried on crying.  After a few spoons she did finally say "oh he likes it" but she still didn't want me to give it to him.  At this point I would like to stress that we have NEVER force-fed her so I don't understand why she would be reacting like this.  I'm worried that her reactions may end up affecting Beanie Boy and his eating.
Have you or anyone you know, ever had issues like this with their children before? What did you do?