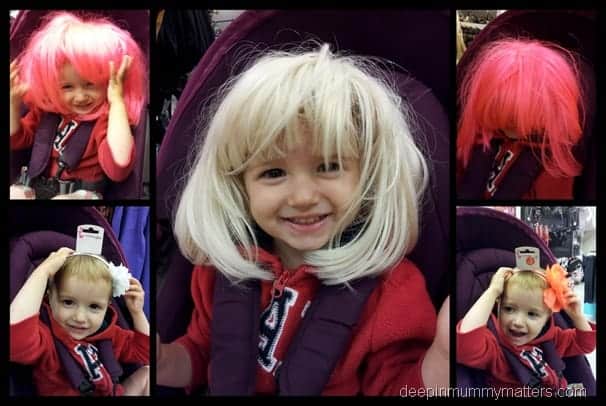 My Cheeky Little Man
Today as Little Bean spent the day with Nanny and Grandad, doing baking, finding caterpillars and no doubt loving all the attention, Beanie Boy had a girlie afternoon shopping with me and my Mum. He had us laughing from start to finish, he didn't shut up the whole time that we were giving us a running commentary on what we were doing, who was standing near us, what things he could see and every memory that sprung into his mind. Obviously his conversation skills aren't quite perfect yet, so his conversation is delivered rather like he is talking in shorthand or abbreviations. As we walked around one shop he said "Hide Nanna – two, three, four, ready – not – coming" then as Mum appeared he shouted "found her".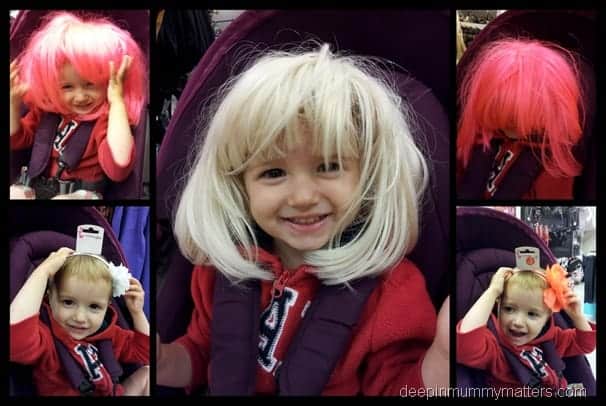 Beanie Boy was quite getting into the swing of girlie shopping, especially when we found these party wigs, he took quite a liking to the blonde one and got very upset when I told him that he wasn't allowed to keep it. He tried playing Cousin IT in the pink one but I managed to grab a quick snap of him in it.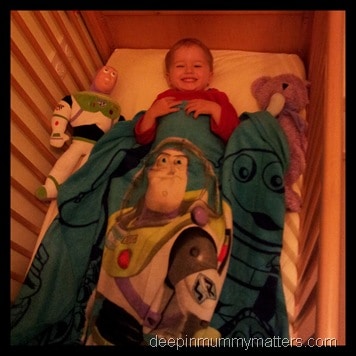 Just like his Daddy he wanted to try on loads of pairs of shoes (Mummy hates shoe shopping!!) and given half the chance he would have bought every single Buzz Lightyear product he could lay his hands on. Nanna made his day by buying him this Buzz Lightyear blanket, he was so excited to get to bed that he didn't even want a story or a cuddle with Mummy! 🙁