Mummy's day off . . .
Being a stay-at-home Mummy I obviously spend a lot of time with my children and most of the time I love it. Come on, we all have one of THOSE days where you just rub each other up the wrong way and end up thinking how lucky the working mothers are but the very next day (or sometimes a few days later if its been really bad) you remember just how lucky you are to get to spend all this time with the little tiddlers. That said, sometimes I just crave a day to myself where I don't have to think about mealtimes, changing nappies, what games to play, what places to go etc etc and on Saturday my wish was granted!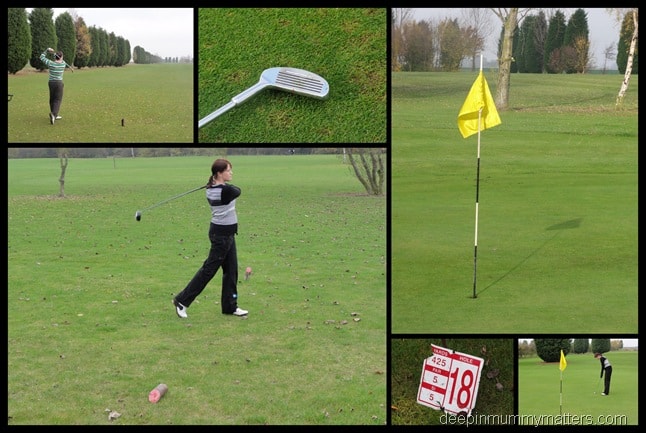 I mentioned to you last week that many moons ago before I became a Mummy I used to play golf with Hubby after work, on weekends and always on New Year's Day (well I used to try to play golf anyway!). But since motherhood took over my life I just don't seem to have the time to get out anymore. A while ago I saw a deal on Groupon to play at our old golf course so I thought 'why not' and then promptly forgot all about it until it was almost too late. But on Saturday we took advantage of our voucher and my Mum came over early to give the tiddlers their breakfast and let us toddle off to have a round of golf.
On the way there I began asking myself what I was doing, I hadn't play in over 3 years I was bound to be rubbish but our voucher entitled us to a bucket of balls on the range first so at least I could have a few practice swings with my new clubs. Yes new clubs, I have only played with them once since I bought them all those years ago. They are my second set and I was so excited when I got them but since then they have been gathering dust in the garage.
I never like to hit out of the sheds because I feel its too fake so I always hit from the grass at the side but when we arrived one of the Pros was giving a lesson on the grass. To say that I felt self-conscious was an understatement especially when two of the first 5 balls I hit landed at the Pros feet! But all my worrying was for nothing, despite two really rubbish holes I had probably one of my best rounds ever, I felt like I really connected with my clubs, I didn't lose one ball and although I will never beat my Husband I felt really happy with my game.
Until Sunday when I woke up feeling like I had been hit by bus! All that twisting and turning, I should definitely try to get out every week I would soon have my middle toned up in no time!
As for the 19th Hole – we ran out of time for that but I did attend a baby shower in the afternoon for my cousin LittlePinkBump who is expecting her first baby in December so I made up for it there!