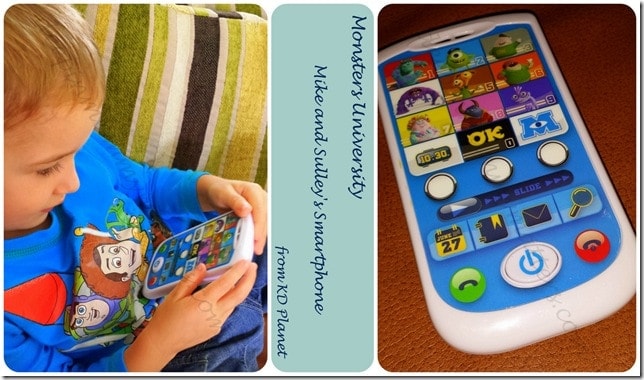 When Beanie Boy goes quiet these days I can be pretty sure of where he is and what he is doing. This Monsters University Smartphone is generally the reason since it has become his favourite new toy.
The Smartphone is from a range of toys by KD Planet and is the perfect size to fit in my changing bag to keep Beanie Boy entertained when we are out and about. The Smartphone is great for teaching colours, numbers and their favourite Monsters University characters, only with this one Mummy doesn't have to miss important messages or texts whilst they finish what they are doing.
Pressing the calendar button prompts you to go and see one of the characters by pressing the relevant picture button, if you get it right you are rewarded with flashing lights. Selecting the contacts button, you will be asked to call the character by pressing a directed number. To send a message you are prompted to press the corresponding colour for a character and pressing the search button tests the players observation skills by finding the correct character from the description given. With a swipe of his fingers Beanie Boy triggers flashing lights and sounds. These are just some of the games that can be played on the smartphone, it looks so simple yet it provides hours of fun and learning for pre-schoolers.
DISCLAIMER: We were sent the Smartphone free of charge as Ambassadors for KD Planet. All words, images and opinions are my own and may not be copied without my permission. I have not been instructed what to write.