Minene Picnic Blanket & Bag
Sometimes I think I was dreaming, but didn't we just have a heatwave or something? No really, I'm sure it was only last Monday that our friends came over from Skegness and we went out for a lovely picnic and watched the children playing in the paddling pool and sandpit. It's just typical that the very next day a gorgeous Picnic Blanket and Bag arrived on my doorstep from Minene which is absolutely gorgeous. Not to worry, (i thought to myself) we will be able to use it over the Jubilee weekend. And then it rained, and it rained and then it even rained some more. Not to be deterred we decided that we didn't need to wait for the sunshine to enjoy our new picnic blanket, no siree, we decided to have a carpet picnic yesterday in the lounge.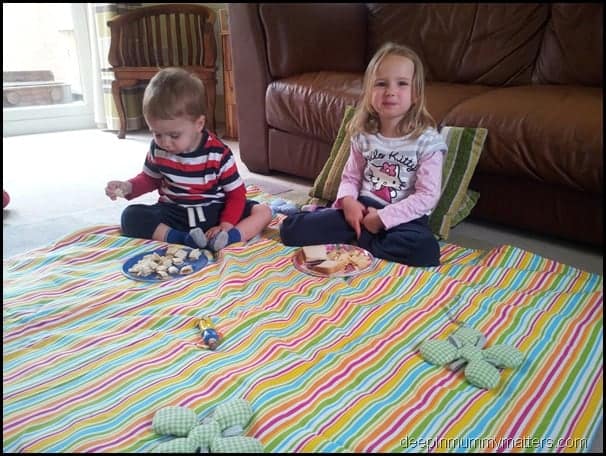 The picnic blanket is brilliant, it's really big (132x132cm) so there is plenty of room for everyone to sit on it and it is rubber backed so it won't get spoilt on grass, mud, sand or wherever else you decide to have a picnic. It has 3 soft fabric toys attached to the mat which are great if you have a small baby to keep entertained or prefer to use the mat as an activity mat and when you've finished you just fold it all up and pop it into the funky matching bag and you're ready to go. The bag has plenty of room left in it to carry extra bits and pieces and it has a lovely wide strap so it won't hurt your shoulders.
I shall be going on holiday with the children in a few weeks time and we are keeping our fingers crossed that the sun will shine again so we will be packing our picnic blanket and bag just in case!!
There are 6 different colourways to choose from.
RRP £36.00
DISCLAIMER: We were sent a Minene Picnic Blanket and Bag for the purpose of this post. All words, opinions and the photograph are my own and may not be copied without my permission.