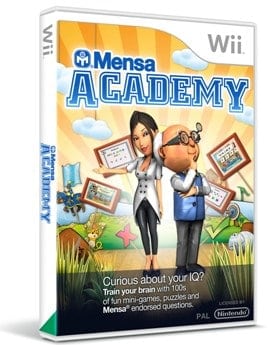 Mensa Brain Academy for Wii
From a very young age my Mum would buy me Mensa puzzle books for Christmas and Birthdays because I loved doing the puzzles and brain teasers, I have 'that' kind of mind. As soon as I had access to the internet I would often carry out online IQ tests and see if I could beat my score, I was always somewhere between 110 and 140 and I felt very proud of my scores.
When I found out I was pregnant with Little Bean I really did worry about Baby Brain, for someone who had always been totally switched on and organised, I found it very hard to take when I became forgetful so when my birthday came around I asked my Mum to buy me a Nintendo DS specifically so that I could have all the brain training games to try to keep my grey cells functioning and it worked, the more I did the tasks the better I felt my brain becoming but as with most things, over time I found I had less and less time to do dedicate to my brain training and the games fell by the wayside. Well with each pregnancy I have felt my brain power slipping away from me and in recent weeks I have managed to turn up days late for appointments with my Doctor and forgotten pre-arranged meetings with friends which make me feel terrible. Clearly my brain is in need of a little TLC and that has arrived in the form of Mensa Brain Academy for the Wii which we were sent a few weeks ago.
The game is adaptable for solo play or group play. We have tried both, in Solo you have the choice of Play, Coach and Test. In Play mode you work through a series of games in order to progress to the next level, in Coach you are trained by the Professor in the subjects of Language, Numeracy, Logic, Visual and Memory and in Test you have 15 minutes to answer 30 questions which will give you your IQ score at the end. I was very disappointed to find on my first attempt that my score had dropped to a very mournful 95 so I think I need to get back into some Coaching with the Professor!
Last week Hubby, Curly and I challenged each other to the group play options of Brain Race and Brain Fighter. This is a great game for Curly who will be sitting his 11+ exams in September and playing against Hubby and I really made him work fast to get top results. In Brain Race you are racing against each other to answer your questions in the quickest time, each time you get an answer correct your 'counter' moves along the race board, if you get it wrong you stay in on place and watch your opponents race ahead of you. We all enjoyed this but some of the graphics were a little hard to see as the screen was split into 3 equal parts, the graphics definitely need to be sharper on this one, if we had a smaller tv I think it would be almost impossible to read. This was my favourite, probably because I won the most rounds!
Hubby and Curly preferred Brain Fighter which is a similar concept to Brain Race, except in Brain Fighter as well as answering questions you have the opportunity to knock out your opponents so you can guess what they were busy doing! I DID NOT win Brain Fighter, I'm a lover not a fighter!!!
As I mentioned above, the graphics aren't the best and I'm not sure that the Professor's Assistant needed to be quite so foxy but Hubby thought she was a welcome distraction!
Mensa Brain Academy is available for PC, Wii or Ninentendo DS from September.
DISCLAIMER: We were sent a copy of Mensa Brain Academy to review for the purpose of this post. All words and opinions are my own and completely non-biased. You are not permitted to copy my work.