Maxi Cosi Noa The Perfect Travel Companion
A while ago I saw an opportunity on Facebook to review the new Maxi Cosi Noa for Pushchair Trader and as we were approaching the Easter break I thought, why not?
Any parent of babies and small children will know how difficult it can be to find the right pushchair for travelling with, the umbrella stroller is the buggy of choice for most parents, though I have yet to try one of these so I cannot comment. How would the Noa work for us?
First Impressions
The box was small and compact, so either I would have lots of building to do or this was really going to be a compact, travel size buggy!
To my amazement, all I had to do was push on the two front wheels and I was done. Inside the box, I found the buggy, rain cover and parasol clip but no instructions?! It's ok, I'm reasonably intelligent (well I used to be before children).
Easy Assembly
Initially, I just tried to pull it apart but clearly that wasn't going to work so then I began looking for buttons to release it. Sure enough, on the handle was a grey button, I pushed it and hey presto the Noa opened up and with a flick of the wrist, it snapped into place. All I needed to do was pull up the bar between the handles and we were ready to go.
All of this could be done one-handed and I have since been able to open and close the Noa whilst holding Beanie Boy in my other arm, it really is that easy.
Perfect for public transport
For travelling on public transport the Maxi Cosi Noa is small enough to fit into tight spaces, yet still giving Beanie Boy or Little Bean enough room to be comfortable. We have regularly used the Noa for both children (obviously not at the same time!). Height-wise I'm 5'7" and Hubby is 6' and neither of us has had any problems with the height of the handles, though Hubby would prefer them to the horizontal as opposed to vertical (but that's just a personal preference). It is so easy to manoeuvre and lightweight for getting up and down kerbs.
Telescopic handle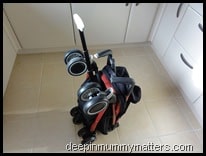 One feature that I haven't had the opportunity to use yet, but think is just genius, is the extending carry handle which can be used to wheel the folded Noa like a suitcase. I just know that this would be perfect for travelling on trains and planes.
It would also be ideal for the London Underground. Up until now, I have avoided the London Underground with the little ones because I can't face the hassle of the stairs with a pushchair and a child but with the Noa, I would happily carry him and wheel the Noa using the carry handle.
Super lightweight
Weighing in at only 7kg it is super lightweight so it won't break your back.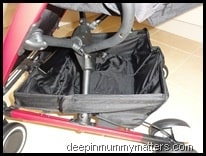 It has a reasonable sized basket although you do have to pack around the chassis, nonetheless, I have carried a picnic blanket, My Carry Potty, child's backpack and children's jackets all at the same time which is more than you would get in most stroller baskets!!
Reclining Seat
The Maxi Cosi Noa can be reclined easily by unzipping the sides which allow the seat to recline almost fully when a baby is sleeping, (I know that some users have found this an issue with slightly heavier babies as the zip can open by itself), Beanie Boy is so small it is not an issue for us but Maxi Cosi might like to consider adding clips to secure it in the upright position.
Storage Pocket
Hidden on the back of the child's seat there is a clever little pocket to store a mobile phone, keys and a small purse or sunglasses which I love.
The hood for me was the only slight disappointment as I like a hood that extends a bit further to actually protect the occupant from the sunshine or rain, perhaps Maxi Cosi could consider a fold-out flap?
On the whole, I would fully recommend the Maxi-Cosi Noa to anyone looking for a holiday buggy whether travelling in the UK or abroad. It's small enough that it won't take up valuable packing space in the car but big enough to transport any child from baby to toddler. Little Bean will be 3 years old in June and she loves travelling in the Noa – she is often quick to point out that "this is my buggy" which says a lot for a child who normally wants to walk!