Swimming is a fantastic exercise when pregnant, and is often manageable right up until you give birth, unlike many other forms of exercise you may be used to doing, so it is a great habit to get into. It is good for gently exercising your pregnancy-loosened joints and keeping up a base level of aerobic fitness and, as it is not weight bearing, it is suitable even if you have had joint issues, such as SPD.
Regular swimming, however, will require buying one or two maternity swimming costumes, which can be a scary prospect. A regular bikini will probably be fine for the first couple of months, but as soon as your bump (and breasts) start to grow noticeably, you will quickly find your pre-pregnancy swimwear just does not fit properly anymore and feels uncomfortable.
Image courtesy of Vertbaudet
Fortunately, manufacturers have realised that pregnant women want to look and feel good even in the pool, so there are now a multitude of choices of maternity swimwear style for anyone wanting to keep their swimming up all the way to the birth. Even beyond the arrival of your baby, you may find a maternity suit is more comfortable for a while as you will probably take some time to regain your pre-baby figure, especially if you are breastfeeding.
When pregnant, the key requirement for a swimsuit is that it fits well and comfortably around the growing bump, and provides support whilst also allowing for the bump, breasts and bottom to continue to grow throughout the pregnancy. Your bust size will change several times throughout pregnancy and afterwards, so you need something that provides good bust support, far more so than you may have needed pre-pregnancy. For these reasons, strapless costumes are often not ideal in pregnancy. Halter straps are perfect, as they can usually be adjusted to allow for growth in pregnancy and then changes in shape after giving birth, with wider straps providing more support than thin ones. Make sure the bottom of the suit covers you up sufficiently and will grow as you do, avoiding any uncomfortable exposure towards to the end of your pregnancy!
Similarly, you need the costume to be made of a stretchy fabric that offers a significant amount of stretch as it needs to fit nicely both at the start of pregnancy and the end. If the fabric is pinched or stretched too far, it will be both unflattering and uncomfortable. Lycra, spandex or nylon should all work well.
Post birth, you will probably find that maternity swimwear remains the most comfortable choice. If you are breastfeeding, then having a costume that supports the breasts will remain vitally important, and it is unlikely that a normal suit, simply in a bigger size, will be adequate. You will also probably find that your post-baby stomach makes your pre-pregnancy swimsuits less than flattering, so you may want to invest in a maternity suit designed for post-pregnancy. A ruched one-piece with a halter neck, for example, should give support to your breasts whilst effectively covering up any post-baby belly flab!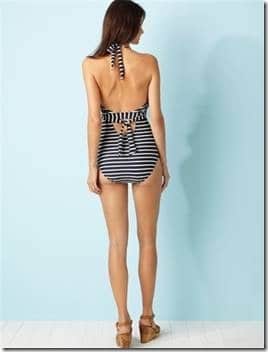 Image courtesy of Vertbaudet
Vertbaudet offers a range of baby clothes, children's clothes and home collections for your little ones. Their Summer Sale is now on, with hundreds of items reduced by up to 60%, so hurry while stocks last. Shop now at www.vertbaudet.co.uk/shop/summer-sale.htm
DISCLAIMER: This is a sponsored post.