Maternity Dresses That Suit Your Changing Curves
Modern maternity dresses have come a long way from the traditional fashions of old. Today's maternity styles are figure flattering, comfortable, and streamlined, making it easy for expectant mums to keep their fashion sense throughout pregnancy. The key to choosing a good maternity dress is finding a style that has plenty of room for you to grow. That way, you will not have to buy a new dress for each trimester. If you have been searching for a maternity dress that will grow with your figure, Vertbaudet features several styles of maternity dresses that suit your changing curves.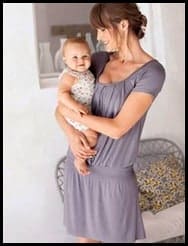 Image courtesy of Vertbaudet
One of the most important aspects of picking a maternity dress that can grow with you is to pick out the correct size for your figure. Since many women can expect to gain 11 to 16 kilograms during pregnancy, you will need to purchase a dress that allows for that type of weight gain over time. Most maternity dresses already have plenty of room in the belly to accommodate a pregnant mum, but you may still need to buy a size larger than you are currently wearing. If you try on maternity dresses at a store, ask the shop assistant if they have a belly pillow you can wear to gauge how the dress will fit later during your pregnancy.
Once you have settled on the right size for your dress it is time to look at some styles that will suit your changing shape. A simple way to avoid any possible fit problems is to pick a dress that is made of stretchy material such as knit, jersey, or lycra. These types of material are flexible and able to stretch over a growing belly. You might also like a dress with elastic in the waist, since this will give you plenty of stretch in the mid-section where you will need it later on. Several stretchy maternity dresses have short sleeves or v-neck collars to make it easier for you to put them on.
Dresses with empire waists or dropped waists are excellent choices for long-lasting maternity wear. These types of dresses avoid placing stress on the belly by adding extra fabric in that area. An empire waist dress has a raised waistline that is placed directly under the bust, giving you plenty of room at the belly. A maxi dress, which is an ankle-length strappy dress, is typically made with an empire waist. A dropped waist has a waistline that is lower than normal, generally falling under the bottom of the belly right over the hips. Many maternity dresses are made with dropped waists, since the lower belly is the part of the body that tends to get the largest during pregnancy. Tunics and belted maternity dresses generally have dropped waists.
Vertbaudet offers a range of baby clothes, children's clothes, maternity wear and home collections for you and your little one's and with their Mid Season Sale is now on, there's various items reduced by up to 50% off. Visit Vertbaudet now at www.vertbaudet.co.uk