I should start this post by saying that I have chosen to write this post myself, I haven't been asked to do it by LeapFrog so this is NOT a Sponsored Post.
I am always slightly torn when buying Christmas presents for the Beans because I like toys to be fun but yet still provide some form of learning experience. Sure they have lots of toys which are for role play, messy play and the like but learning toys are great because they don't even realise they are doing it.
You see that badge there in my right hand sidebar that says I'm on the LeapFrog blogger panel. Well, of course I wear that badge on my blog with pride but looooong before that badge arrived, and way before Mummy Matters even existed LeapFrog played a big part in our lives because it was our brand of choice for Curly growing up too.
New for 2014
LeapTV
Get your children's minds and bodies  moving with LeapTV an active educational video gaming specific designed specifically for children. With LeapTV there are three unique ways to play – Classic Gameplay in standard mode, motion controller and LED pointer controller that can be used to clear a path through a jungle or slice open a coconut.
With the motion-sensing camera children can be immersed into the game themselves. Games featured popular licensed content such as Princess Sofia and Spiderman as well as a library of over 100 games and videos to choose from.
RRP £119.99
Age 3-8 years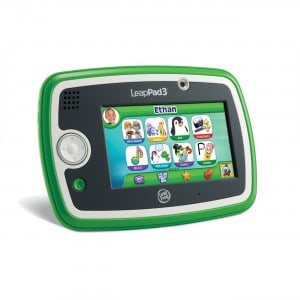 LeapPad 3
If you have read Mummy Matters in the past you will already know we love LeapPad. Just when you thought it couldn't get any better, it does. Recently launched is the LeapPad3 which offers children their first tablet experience. LeapPad3 offers the perfect combination of speed, performance and durability, growing with your child as they learn. The LeapPad3 features LeapSearch, the Wi-Fi powered browsing tool which has been created by LeapFrog's in-house learning team who approve all content to ensure that the LeapPad3 is kid-safe straight out of the box so you don't have worry whether you have set up the parental controls correctly.
With 4GB of memory, front and back cameras and a rechargeable battery, LeapPad3 will keep children busy and happy, with over 700+ games, apps and videos to choose from in the content library
RRP £89.99
Age 4-9years
LeapBand
Fed up of seeing your children sitting down then get them a LeapBand to inspire them to get up and active. It is the first wearable activity tracker for kids. LeapBand encourages them to get moving and have fun with 50 different activities and challenges. The LeapBand tracks their physical movements, the more active a child is, the more points they earn for their customisable virtual pet. LeapBand also doubles up as a digital and analogue watch, as well as featuring a built-in accelerometer, high-res screen, water resistant design and a rechargeable battery. Parents can even set LeapBand to a quiet mode for school and night time.
RRP £29.99
Age 4-7 years
Under £40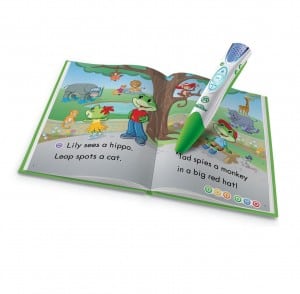 LeapReader
We have had LeapReaders in our house for many years now and they are the ideal gadget to help children with their reading, writing and listening skills. Touch the pen to LeapReader books to hear the words read aloud and sound out the words, or use the special no- mess paper to practise letters, numbers and words with stroke-by-stroke guidance. LeapReader even plays vocabulary building games, and the fun character voices, sound effects and activities all help with comprehension skills.
With over 40 educator approved books, apps and activity sets, including some of your children's favourite characters, like Nemo and the cast of Cars, LeapReader is the ideal system that will keep children learning and having fun at every reading stage.
RRP £39.99
Age 4-8 years
Read with Me Scout/Violet
If like us you have little ones who love to read then Scout or Violet will be a winner. They are cuddly interactive learning puppies who encourage a passion for reading. Scout and Violet engage children by asking questions throughout the story to help build comprehension skills and ensure an exciting reading experience. Each pup comes with five colourful books which teach children a variety of educational skills. As Scout and Violet complete each page, they will ask children one of over 70 different engagement and comprehension questions.
RRP £29.99
Age 2-5 years
Under £20
My Pal Scout/Violet
Scout and Violet are soft and cuddly interactive friends to help introduce children to words, counting and feelings by way of 14 activities. They have super-soft fur which is comforting for babies and 5 touch points that respond when pressed. You can personalise Scout and Violet to learn your child's name and favourite things via smart phones so they are ready to play straight from the box.
 Scout and Violet come with 5 songs or a choice of 30+, and two modes of play, so you can play with Scout and Violet in daytime mode or night-time mode for soothing lullabies.
RRP £19.99
Age 6mths-3 years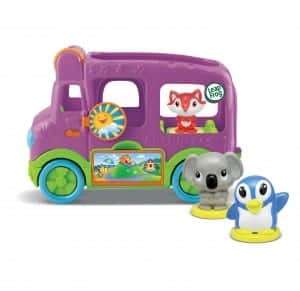 Learning Friends Adventure Bus
With the Learning Friends Adventure Bus children can go on a journey of discovery and imaginative play. Travel to the beach, the library and outdoors for a picnic, with more than 20 songs, phrases and sound effects which bring the adventures to life. The interactive features on the bus also help children develop key motor skills. Three learning friends, the Koala, Fox and Penguin, also introduce vocabulary to children for pretend-play fun.
RRP £16.99
Age 2-5 years
Under £15
Fridge Phonics
We still have Little Bean's Fridge Phonics which we bought for her when she was at pre-school. Unfortunately it never could stick to our fridge as we have a built-in refriderator so ours became 'Radiator Phonics' but the toy is still the same and is now being enjoyed by Beanie Boy. It is a colourful and engaging way to help children learn the alphabet and phonics.
Fridge Phonics brings phonics skills to life with 26 singing, talking letters. The magnetic school bus and letter tiles stick to your fridge or any magnetic surface. Children can place each letter into the bus window and press it to hear Tad sing a song about the letter's name and sound, or press it twice to hear Tad say a word that begins with the letter and use it in a sentence.
Pressing the music note allows kids to move and sing along with three learning songs, while playing with the letter tiles strengthens fine motor and coordination skills
RRP £14.99
Age 18mths+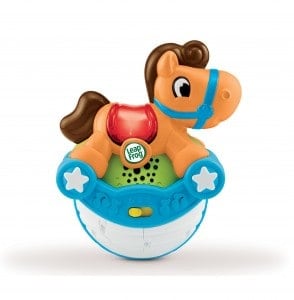 Roll & Go Rocking Horse
If you want to get your little one moving then Roll & Go Rocking horse is the perfect gift. They will want to get their hands on Roll & Go Rocking Horse so if you pop it slightly out of their reach they will be up and crawling in no time. When they press the light-up saddle they will be rewarded with playful sound effects and friendly phrases. Press the horse to set it to rocking for more fun songs and move the horse along to start a game of chase. Each roll, sound, song and light will entice little ones to crawl and build on their key motor skills.
Children can learn how to crawl with Roll & Go Rocking Horse, which delights little ones with fun responses as they horse around in three different ways. Children can press the light-up saddle to hear playful sound effects and friendly phrases, push the horse to set it rocking for more fun songs and move the horse along to start a game of chase. With every roll, sound, song and light, little ones are motivated to crawl and build key motor skills.
RRP £12.99
Age 6mths-3 years