When you find out you are expecting your first child it's exciting to go out shopping for the new pram/buggy, there's so much choice, so many styles and colours. But when you are expecting your second child, depending on the age gap you may need to purchase a double buggy and your choices are quite limited.
I can honestly say that this caused me the biggest amount of stress when I was pregnant with Beanie Boy as I just didn't know what I wanted/needed. Little Bean is 28 months old so I could have got away with a buggy board and kept my old travel system but I know Little Bean only too well. There is no way in the world that she would stay on the board and I would spend more time trying to get her back on it than I would care to. No, I needed her strapped in where I could see her!
But for a double you have basically two choices – tandem or inline. This was where I couldn't decide. With an inline the buggy is no wider than a standard single buggy but can often be longer and harder to steer. Also there is the argument that it's not fair on the child that has to sit at the back because they don't get a good view of the world. But with a tandem all I could envisage was never being able to go shopping again (NOOO!!) because I wouldn't be able to fit through shop doors or fit between the too closely stacked clothes rails in my favourite shops. Naturally Hubby was very keen for me to get a tandem!!
My quandary was settled when I was sent the Maclaren Twin Techno to test drive and review. It took me about 10 minutes to set the buggy up and I didn't even need to read the instructions. Once the buggy was erected all I had to do was clip on the hood, attach the bottle holders and put on the head support and foot muff for Beanie Boy. I'm not normally a 'stroller' person as I never think they look sturdy but I couldn't have been more wrong. The pushchair handles really well and provides a smooth ride for the children. The brake is easy to apply with one foot lever. It is made from an ultra lightweight frame which is a necessity when you go on to add two growing children and a heavy changing bag, and that's before you start with the shopping. There are two fair sized shopping baskets under the seats, though when the baby's seat is reclined it is quite difficult to access.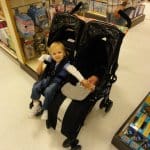 So, shopping??? Off we went to our local shopping centre for the ultimate test. The first door we encountered was from the car park to the lifts, I took one look and said "no way". But again I was proved wrong. The buggy glided through the door with inches to spare (and no I didn't need to open the second door).
The front wheels swivel making it really easy to steer arounds the shops and yes I could fit between the clothes rails – ha ha, Hubby's plan was scuppered!! I love the hoods as they are a really good size and would definitely protect the children from the bright sunshine – too many buggies I find have pointless hoods – this is not the case for the Twin Techno. Also in the back of the hood is a clear window so that you can keep an eye on them while they are in the reclined positions, I found this really useful for Beanie Boy as it gave me peace of mind.
Both seats have multiple-recline positions and five point safety harnesses. The hoods work independently and also have a clever sun/rain shade which pulls down further from the front of the hood.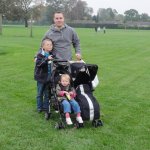 The Maclaren Twin Techno features:
5 point harness
washable seat
compact umbrella fold
foot operated brakes
shopping baskets
high performance aluminium
raincover included
water resistant hood
The downsides for me were:
I would have preferred the handle to be a solid bar not two separate handles, just for ease of pushing one handed with a shopping basket!
The foot muffs needed to be bigger to accommodate Little Bean's long legs – I need to purchase a separate one for her
The rain cover didn't provide Little Bean much leg space so she became grumpy very quickly, which meant I did too!
On the whole I think this is an excellant, well designed pushchair that would be ideal for people with twins or like me a toddler and a baby. And with a Maclaren Twin Techno you'll be in good company, look at which stars love it!!
Below – Brad & Angelina, Britney Spears and Heidi Klum to name a few!


At a RRP £270 I think it is also excellant value for money.
If you would like more information on the Twin Techno or Maclaren's other products, why not check out their website: