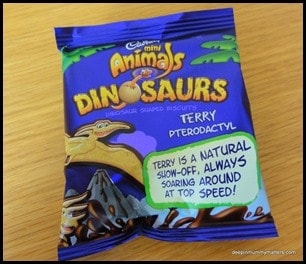 Look out there's dinosaurs about . . . but they're only chocolate!!
Shhhh don't tell anyone, but as Hubby is sitting glued to the TV watching Jurassic Park for the zillionth time, I am munching my way through a bag of Cadbury Mini Animal Dinosaurs. I have a fear that this baby might actually come out covered in chocolate because I have to admit, that is my major craving so far, I am virtually dreaming of chocolate 24 hours a day whether I am awake or asleep, I guess there could be far worse cravings to have though so I'm not going to complain. Especially since we were sent a few bags of the yummy new Cadbury Mini Animal Dinosaurs.
I still remember begging and pleading with my Mum as a youngster (about 19, 20 years old) if we could have Cadbury Mini Animals because they are so flipping scrum-diddly-umtious! To appeal to a wider audience, dinosaurs have been added to the packet now too. In your pack be sure to look out for; Travis the T-Rex, Trudi the Triceratops, Terry the Pterodactyl, Spike the Stegosaurus, Daisy the Diplodocus and a further mystery dinosaur, maybe the Stan the Stygimoloch (this was Little Bean's guess). Each dinosaur pack has dino facts on them so you have have a mini-history lesson with your biscuits!!! Who knew learning could be so much fun!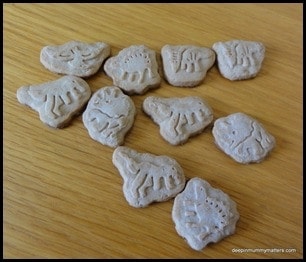 Personally I'm a biscuit dunker, I love a steaming hot cup of tea to dunk my biccies in and then munch them up with the melted chocolate, Hubby likes to scrape the chocolate off with this teeth and then eat the biscuits, whereas the children all like to lick the chocolate off before scoffing the biscuit down.
When we were sent the bags of Dinosaurs I think the idea was that I give them to the children, because they come in individually sealed snack packs they are perfect for my changing bag or for lunch boxes but I'm pregnant and I have needs too so I'm ashamed to say that I have been eating loads of them. Must dash now, I need to get to the shops and buy some more before the children realise they are all gone!
Available at all good supermarkets.
DISCLAIMER: I was sent these yummy biscuits for the purpose of this post and I'm not sorry that I ate them!!