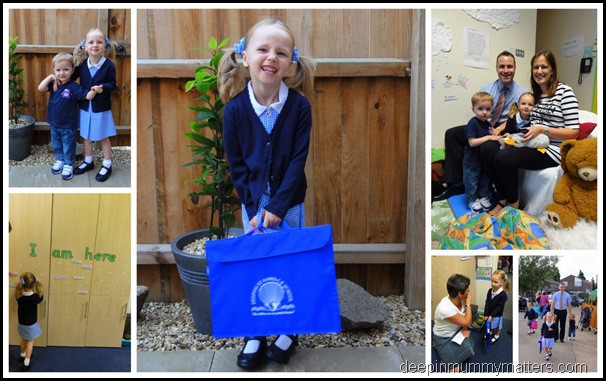 Little Bean starts school!
How can it be that our gorgeous little girl is old enough to go to school? I remember when I was pregnant with her, people would say to me "make the most of them, they grow up before you know it" and they were right. I had always dreaded this day where I hand my little girl over to someone else for the majority of her day but as the time has got steadily closer I think both Little Bean and I have been ready for it. She has been so excited about starting school and it's hard to not get caught up in her excitement, it's contagious.
This morning she woke early and wanted to get dressed in her uniform (but we were taking any chances with the breakfast cereal!!). I think you will agree she looks super cute and I have to point out the photograph of Little Bean with Beanie Boy, if I had asked them to hold hands or put their arms around each other they would have run a million miles, this morning however our "big girl" suggested it and I think I will treasure that photograph forever.
Before we left for school we got together with Mummy Bird and our other neighbour for photographs as our three littlies had attended pre-school together but of course, Little Bean and T didn't get into the school we had hoped for so now they were going their separate ways (although LB and T will remain together).
When we arrived at school Little Bean was greeted by one of her teachers who explained to her what she needed to do when she arrived at school and carried out each task that was asked of her; putting her snacks in the snack area, her book bag in her tray and her name on the board to say that she had arrived. Next she was told that she could get a book and find somewhere quiet to read her book with Mummy and Daddy if she would like to. Little Bean being the Miss Independent that she is chose to play in the home corner and told us that we could go!!! So after a quick kiss for each of us she sent us on our way so that her new journey could begin. I think she is going to like it there . . .