Little Bean LOVES Lego!
When we celebrated Little Bean's 4th Birthday
last week, one of the parents commented that they had found it really difficult choosing a present for Little Bean as they know that through blogging we are very lucky to receive lots of cool toys for the children. They said that if she already had this then we could take it back and change it. When Little Bean opened her present she was overjoyed to find this bucket of very girly Lego.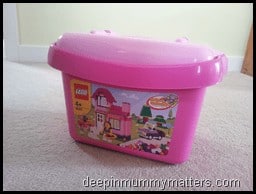 Big Bro Curly has been into Lego for as long as I can remember. At his Mum's house he has all of the Star Wars Lego sets and at our house he is building up a collection of the Harry Potter Lego. I always loved Lego growing up too, I built a really cool remote control car out of Lego, it was one of my favourite toys.
Foolish me though, I hadn't even considered buying Lego for Little Bean, not because she is a girl but just because I didn't really think about it. This bucket of Lego has quickly become one of Little Bean's favourite birthday presents and she begs me to put Beanie Boy to bed early just so that she can have some quiet time to play it without his sneaky little fingers around to run off with the crucial bit. She also received some birthday pennies and when I asked her what she wanted to buy with her pennies, she said "more Lego" so guess what we are going in search of today!
DISCLAIMER: This is NOT a sponsored post.