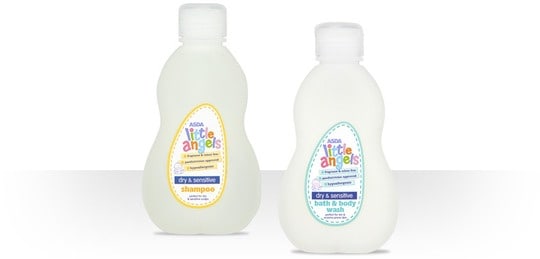 Little Angels skincare for sensitive skin
When Little Bean was born she had the most perfect soft skin, just as you would expect for a newborn I guess and when she was just 6 weeks old I enrolled us to a Baby Massage class which she loved. She would really relax into it and look me right in the eye for the duration of the class, it was the perfect bonding experience for Mum and Baby. BUT, as the weeks of the class went on I noticed that Little Bean's skin wasn't reacting as well as I would have hoped to the massage and massage oils. It became very dry and scaly, it felt like sandpaper to touch and sometimes would flare up bright red. When I took her to the Doctors they simply said "she has sensitive skin" and so we had to be very careful what products we used on her so as not to aggravate the situation.
Today Little Bean still has sensitive skin but we manage to keep it well under control providing we use the right products. Two such products we have found that we like were sent to us by Asda from their Little Angels range; Little Angels Dry and Sensitive Bath Wash and Little Angels Dry and Sensitive Shampoo.
I have used the Little Angels range quite often with Little Bean and Beanie Boy because I like how simple they are, yet good quality at a reasonable price. The new sensitive range did not disappoint either. Since using the Bath Wash and Shampoo we haven't had one problem with Little Bean's gorgeous skin and that's just the way I like it!
DISCLAIMER: We were sent a bottle of the Bath Wash and Shampoo for the purpose of this post. All thoughts and opinions are my own, I have often used Little Angels in the past.