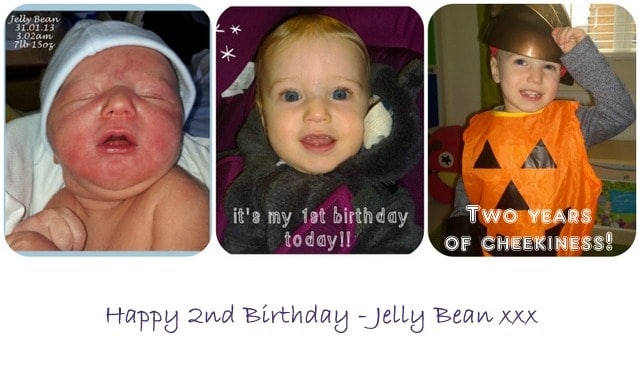 Jelly Bean turns two – yes really!
It can't really be two years since he was born can it? Who pressed fast forward on life because I swear it has never gone faster than these past (nearly) 7 years since I became a Mummy. Jelly Bean is the cherry on the top of our family pie, he came along to complete our family and I have a theory about the 'last born child'. They are made in a 'certain' way to ensure that you never want to have another child again!!!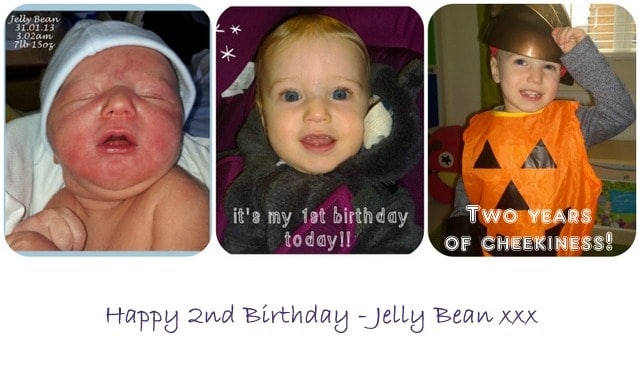 Now please don't read that wrong, Jelly Bean is MY baby, I love him more than life itself, he is cheeky and cute, he is loving and giving ON HIS TERMS and boy is he D.E.F.I.A.N.T!!!!!
As a baby Jelly Bean just smiled and smiled and smiled at anyone and everyone. Little did I know at the time that behind those smiles he was thinking "just you wait". Jelly Bean likes to test his boundaries, he likes to see just how many of Mummy's buttons he has to press before she self-combusts. I try SOOOOOO hard to ignore his tantrums, and there are a lot of them for me to practice on. When he throws himself on the floor . . . I step over him and walk away, when he throws his plate of food on the floor, I calmly take him down from the table and ask him to pick it up. Once he has picked it up I tell him "all finished" and point him away from the table to which he normally says "sorry Mummy, plate?" but I stand by my guns and that's his mealtime over. His worst was three days in a row, lunch and dinner time. In fact, thinking about it, that was about three weeks ago and I don't think he has done it since so maybe we have a breakthrough???
If he asks me to watch the TV and I say no (he doesn't need to watch TV all day) he will shout "NO" at me and the proceed to smack me so I normally walk away to a different room or if I am in the kitchen I close the safety gate and put him the other side to separate him from me. At this point he will throw himself on the floor, shout, cry, bang his head (all ignored) and then he will calmly stand up and say "sorry Mummy" at which point I sit down and explain in as simple terms as possible that what he did wasn't acceptable.
I was pretty lucky with Little Bean and Beanie Boy, we didn't really suffer too badly when it came to the terrible twos, we had a few issues towards the end of twos, heading into threes with Little Bean and I have seen a little defiance from Beanie Boy since he turned 4 but Jelly Bean is definitely going to be the one to watch.
Putting all that aside though, throughout any given day I guarantee you Jelly Bean will make me laugh either quietly inside (when he is doing something I really shouldn't laugh at but can't help doing so) or raucously out loud. He will make me feel like I am the most treasured Mummy ever when he grabs me tight around the neck, squeezes me and says "luv ooo" and he totally melts my heart when he gives his big sister or brothers a kiss for no reason (usually followed by a swift smack around the head for no reason other than he can!).
Yes of course I miss those 'baby days' the cuddles where they just fall against you because their bodies can't do anything else yet, where their eyes light up just to see your face and even the middle of the night feeds when it's just the two of you awake for bonus cuddles BUT I still have a whole lifetime of fun ahead of me with my Beans and I'm sure it's going to be one hell of a ride.
Jelly Bean, Happy 2nd Birthday my funny little man. Love you to infinity and beyond xxxx