As the Jubilee weekend approaches the shops, houses and streets are adorned with the Union Flags so here is my pick of my favourite Jubilee themed products.
Rosie the Jubilee Princess
(or Geri Halliwell as I keep thinking she is!)
Rosie is a special edition doll set to join the Fulanitos Family. Also available in pretty pastel shades.
She is beautifully soft and cuddling, perfect for your very own Jubilee princess.
£14.50 from Fulanitos.
ASDA Union Jack Gazebo
We love a good street party, any excuse will do but I'm feeling optimistic about the weather this summer and recommending everyone gets one of these. It's our landmark year so let's do lot's of celebrating and have somewhere to cool off in all the hot weather we're going to get.
£29 from Asda
Hallmark – Iconic London Stationery
If you're anything like me you'll love this stationery and want to buy it, even if you don't know what you want to use it for.
With prices from £1.50 to £4.00 it's not going to break the bank but it will certainly make your desk look cool!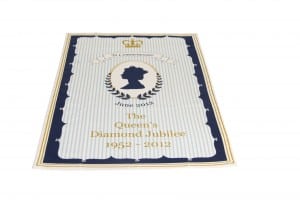 Commemorative Tea Towel
Let's not forget what the Jubilee is all about, it's not just an excuse for a street party. We are actually celebrating Queen Elizabeth II's 60 year reign.
From Asda Stores Nationwide
Cadbury's Jubilee Chocolate Collection
No celebration would be complete without a bit of chocolate now would it and who better to provide that chocolate than the nation's favourite Cadburys!!
£5.49 from Supermarkets Nationwide
nails inc. London – Best of British
Attention to detail is everything! You've got to finish off your outfit with beautifully manicured nails, so how about getting creative with this Jubilee trio of gorgeous nails inc. nail varnish in St James Pillar Box Red, Baker Street Cobalt Blue and Whitechapel Iridescent White.
£22 from nails inc.
Latest posts by Sabina Green (see all)