Infantino Surfboard Tummy Time Mat
I hate to admit it but when Little Bean was a baby I was terrible at giving her tummy time each day. I'm a bit of a "holder" when it comes to babies, I figure they're not this small and precious forever so you've got to make the most of the cuddles whilst you can get them.
Little Bean, from the day she was born, had a very strong neck and would push herself up off my chest if I was laid flat on my back. Typical female, always nosey!! She used to have mat time every day on her activity gym but on the odd occasions that I did put her on her tummy she would scream the house down. Even once she started rolling over, she never stayed on her tummy for long.
I was contacted by the lovely people at Infantino to see if I would be interested in reviewing one of their new playmats and I figured this would be a great way to encourage me to give Beanie Boy the much-needed tummy time. I chose the Surfboard Tummy Time Mat as we have a "thing" for all things 'surfy' in our family so what better way to introduce Beanie Boy to the family theme?
The surfboard is made from a soft but durable material which is machine washable (well you've got to expect a little baby dribble and sick). It has a removable prop-up pillow to support little one whilst they are playing with the mini-aquarium with three floaty sea creatures and the linky toys. One is a crab with a teething style ring and the other is a crinkly starfish. The linky toys and aquarium are within easy reach and the prop pillow is also removable for when baby becomes strong enough to support himself without it.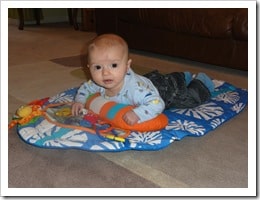 Beanie Boy initially wasn't too impressed with being put on his tummy but as he is getting older and stronger, he is starting to enjoy his time on the mat. His favourite is the starfish as he seems to love the crinkle sounds. What I really like about the mat is that it rolls up small enough to take with you when visiting friends and family and it is so versatile. When Beanie Boy has had enough of being laid on his tummy I detach the linky toys and attach them to his bouncer or I sit him on my knee and take the aquarium off the mat and place it on his legs. He gets very excited smacking the aquarium with his hands and watching the fish swim around.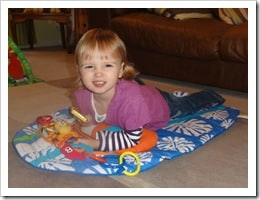 Little Bean didn't want to get left out, she insisted that she needed "tummy time" too, so here she is!
Tummy Time is an important activity which babies should have daily, the recommendation being 30 minutes a day (this can be in one session or broken up into multiple shorter sessions). Since the "Back to Sleep" campaign there has been an increase in babies with cranial asymmetry (misshapen heads) because they are spending so much time laying on their backs. Giving them tummy time gives baby's head a break and literally takes the pressure off. Tummy time is also good for strengthening their neck muscles in preparation for crawling and increases baby's strength in pushing themselves up, rolling over, sitting up and eventually walking. Spending time on their tummy also helps with fine and gross motor development because they tend to kick their legs around which works their large motor muscles. Also grasping for toys or holding on to the mat itself strengthens their tiny little hands encouraging fine motor development.
The Surfboard is just one of many playmats and gyms available through Infantino, to check out their range visit their site www.infantino.com also available from all leading stockists.
RRP £24.99