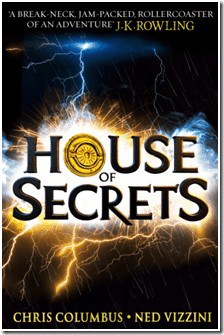 House of Secrets in the shops tomorrow!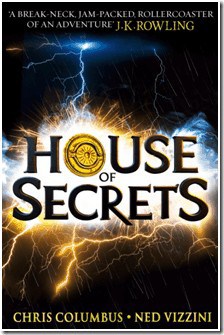 Hold onto your hats. Acclaimed film director, producer and screenwriter Chris Columbus has swapped the big screen for books with House of Secrets, the first book in a brand new trilogy, which he has co-written with Ned Vizzini of MTV's Teen Wolf fame. House of Secrets is their first collaboration and serves up everything an eight to twelve year old reader could possibly want from an adventure.
An adventure that brings out traits in the Walker children that they never realised they had. Up until 'the incident', Cordelia (14, a book worm), Brendan (12, a big gamer) and Eleanor (8, passionate about horses) had it all: loving parents, a big house in San Francisco, all the latest video games. But all that changed when their father lost his job… Now the family is moving into Kristoff House, a mysterious place built nearly a century earlier by a troubled fantasy writer. Suddenly the siblings find themselves launched on an epic journey to retrieve a dark book of untold power and uncover the Walker family's secret history.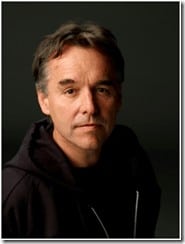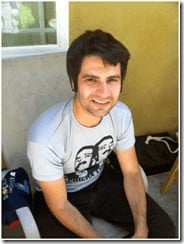 With Chris Columbus' 25 years of legendary film writing, direction and production of classics including Gremlins, The Goonies, the Harry Potter and Percy Jackson series, it is no wonder that he is responsible for this brilliant new adventure. Combined with Ned Vizzini's award-winning talents as the creator of cult teen books, House of Secrets is jam-packed with memorable characters, humour, suspense from the outset, imaginative worlds, creatures, warriors and some agreeable historical references thrown in.
And judging by the latest news from Columbus' 1492 Picture Company, House of Secrets will be adapted for the big screen before too long. Rise Entertainment has signed a five-year financing deal with 1492 for the immediate greenlighting of three films, the first being House of Secrets, which Columbus says "will have the feeling, flavour and the spirit of Goonies", one of Columbus' earliest and most admired films.
Curly had the opportunity of a sneak peek of this book and had this to say;
I love reading books, the Percy Jackson series being one of my favourites and the House of Secrets is one book that I shall be eagerly awaiting a follow up for. I don't want to give away the plot of the book but what I will say is that there are twists and turns that I wasn't expecting, plus a few that I had an idea about but wasn't completely sure of. It kept my interest and was quite the page turner. It has certainly made me look at a few houses around here with a different eye now.
Ahead of the book launch tomorrow I was asked if I would like to put a few questions to Ned Vizzini myself;
When did you decide you wanted to be a writer?

I knew I wanted to be a writer at age seven when our school had a class called "Writer's Workshop" and I got my hands on a blank book.
My husband and stepson have vivid imaginations; they would love to write a book. What advice would you give them?
I would tell your husband and stepson to start with short stories! As George Orwell says:
"Writing a book is a horrible, exhausting struggle, like a long bout of some painful illness." [from "Why I Write", 1946]
It's very easy to get frustrated writing a book and give up. Starting with shorter pieces is the way to build up confidence.
In most towns there is always a strange house shrouded in eerie stories, did you have one near you growing up? Did it offer inspiration for the House of Secrets?
When I was a kid, I lived on a block in Manhattan that had an Avis Rent-A-Car on it. And there was an old man who sat on a bench outside Avis making sure that no one came in and stole any cars. And he had an eye patch, and he told me that there was a giant eagle that lived on top of Avis and that it had pecked out his eye. And one day he flipped up his eye patch and I saw the pulpy scarred flesh of his eye socket! So you better believe I thought he was telling the truth about the giant eagle and I always crossed the street when I passed by that Avis.
When working with Chris to write the book, how did you decide who would write what?
It wasn't really something that was decided officially. At our first meeting Chris gave me the first 90 pages of "Stones Of Time", a script he had started writing ten years ago and never finished. He said, "Read this and let me know if you think there's a book in here." I loved the story so I composed a draft of the first chapter, sent it over and it all kicked off. From then on Chris and I simply emailed each other, sending chapters back and forth and editing them until they were good to go. But when we got to a place where something didn't feel right, we would get on the phone.
The Book Debut of 2013 for 8-12 year olds
Published by HarperCollins Children's Books on 25th April 2013
978-0-00-746583-5/ £12.99 / Hardback
Ned Vizzini is the bestselling author of the acclaimed young-adult books The Other Normals, It's Kind of a Funny Story (also a major motion picture), Be More Chill, and Teen Angst? Naaah…. In television, he has written for ABC's Last Resort and MTV's Teen Wolf. His essays and criticism have appeared in the New York Times, the Daily Beast,and Salon. He is the co-author, with Chris Columbus, of the fantasy-adventure series House of Secrets. His work has been translated into ten languages. He lives in Los Angeles.