Help lost teddies find their way home . . .
This is me aged 2 with my beloved Teddy Bear, also 2 years old at the time. He had been given to me by my Auntie on the day I was born and I took him EVERYWHERE with me. My Mum and my Grandparents often told me stories of the places that I had left Teddy and they had to go back to find him. One time my Mum took me with her whilst she was cleaning a chalet and I left it there, I had to be without my Teddy for the whole weekend and Mum said it was horrendous because I cried for him all weekend and another time my Grandad had to chase a bus down the road because I left him on a bus. I was one of the lucky ones, I always got my Teddy back and I still have him today. Hubby will often unearth him in the garage and ask if we can get rid of him yet as he has no fur left, no eyes and only one ear but to me, he's still special so I keep him.
Many children aren't as lucky as me when it comes to their favourite Teddy or soft toy and this is where returnmyted.com has come to save the day. returnmyted.com is the brainchild of parents who know the pain a lost soft toy can bring.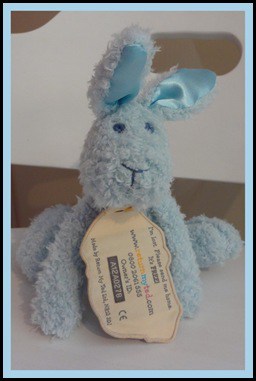 How it works:
1. Buy a returnmyted.com tag and attach it to your toy
2. Register your unique 'Owner's ID' along with your personal details at returnmyted.com. Or freephone them on 0800 20 61 555 and follow instructions.
That's it!
Then if you happen to lose the toy and someone finds it the tag instructs them what to do next. They contact returnmyted.com who will then retrieve the toy and return it to it's rightful owner at their registered address by first class post.
Your identity remains anonymous and protected.
The tags are suitable to use from birth and machine washable.
If you move address just update your account online and returnmyted.com will do the rest.
There is no cost to the finder of the toy, costs involved in returning the toy are covered by the purchase of the tag and telephone numbers are FREEPHONE.