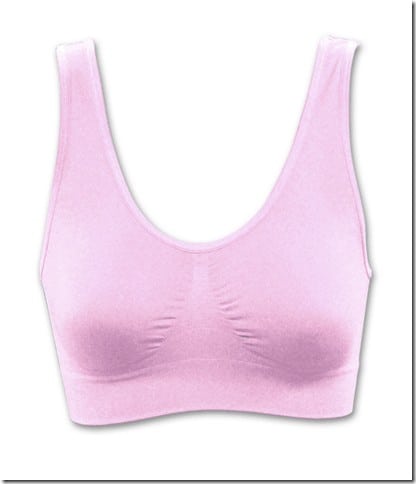 Genie Bra and Breast Cancer Care
Before I became a Mum I didn't really put much thought into my boobs other than whether they made a top/dress look good or not. I always loved to wear nice underwear but that was about it. Then when I first became pregnant I started to think about my body very differently, I realised that it was never going to look quite the same again and that if I wanted to keep it in the best form possible, I needed to take care of it because let's face it, no-one else would!
Suddenly I was researching the best creams, lotions, potions and over-the-shoulder-boulder-holders aka BRAS to support my now rather ample bosoms. They really do *ahem* flourish with pregnancy!! Even before I became pregnant I knew that I wanted to try breastfeeding my baby, I didn't know if I would be able to but it was my goal and I'm happy to say that I have achieved that goal twice now and am fully intending on trying for a hat-trick with Jelly Bean too.
Now, the thing about breastfeeding is that, like with most things there are pros and cons. The obvious pros being goodness for baby, 'the best start' for baby, reduced risk of breast cancer for me, no cost to feed baby, a very special opportunity to bond with my baby, something that only I could do for them. The cons? Erm, saggy boobs!
I read up extensively on how to keep my boobs looking good for longer and one thing which kept coming up was the support of a good bra both during the day and through the night so throughout all of my pregnancies and through the nursing period I have always had my bras properly measured and fitted and I have always worn sleep bras too and I'm pleased to say that after Beanie Boy and before Jelly Bean, Daisy and Mable (as I fondly named them after breastfeeding) were still looking and feeling pretty perky!
My recent pregnancy find has been the Genie Bra which is from the new breed of seam-free/clasp free bras but this one is slightly different and one which I prefer as it has hidden moulded cups which makes you less 'noticeable' on a cold day if you get my meaning! The moulded inserts give you a smoother, sleeker look rather like when you wear a t-shirt bra. The bras are really comfortable and I felt the added inserts made the bra feel more supportive too. With other versions of these new bras I have only worn them for bed but with the Genie Bra I have been happy to wear them during the day, feeling confident and supported right where I need it. Unfortunately, they will only see me through pregnancy as they aren't conducive to breastfeeding but (providing they still fit) I shall return to wearing them post-breastfeeding.
Genie Bra and Breast Cancer Care
Genie Bra are very happy to announce that from October 2012 they have begun a 12 month partnership with Breast Cancer Care with their special new pink shade to encourage women to wear this charity bra for comfort and support. The bra is designed to slim, smooth the shape and accentuate the bust line to help you look and feel your best. For every £13.50 bra sold at Bhs from 1st October 2012, £1 will be donated to Breast Cancer Care.
Over 50,000 people in the UK are diagnosed with Breast Cancer each year – that's one person every ten minutes – Breast Cancer Care aims to be there for anyone affected.
Specially manufactured on a rare Santoni Seamless weave machine, the New Image Genie Bra will guarantee to rid the wearer of bust spillage and back fat – with no wires, hooks or adjusting straps in sight. It will give you as much support and uplift as a traditional underwired bra without digging into your skin, leaving you feeling comfortable and looking great.
In fact the New Image Genie Bra is so super comfortable; it's been tried and trusted by many Breast Cancer patients who've found it a perfect post operative bra and comfortable to wear over scars.