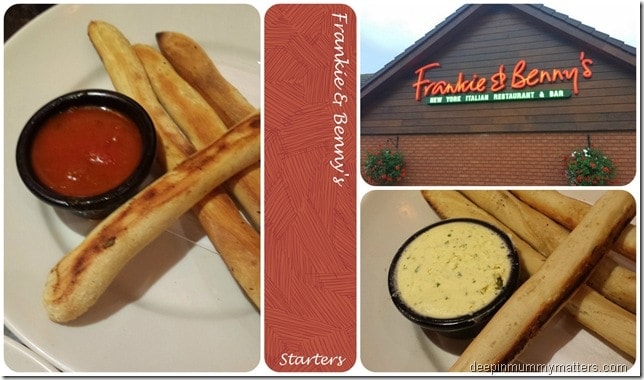 Frankie & Bennys Special Menu
Before our family holiday, Hubby and I got the chance to don our glad rags and leave the tiddlers at home with my Mum for a 'date night' at Frankie & Benny's. We had been invited by Frankie & Benny's to try out their Specials Menu so we chose to visit the restaurant at Springfields in Spalding on a Thursday night which is late night shopping so were not surprised to find it quite busy. We were greeted and seated within a few minutes of arrival and were left to peruse the menu to make our choices.
The Specials Menu is available Sunday to Friday, you can choose two courses for £10.95 and add a further course for just £2.25. When I normally hear the term 'Special Menu' I assume that to mean a limited choice but not so when it comes to Frankie & Benny's, there was ample choice and I even found myself deliberating between a couple of dishes.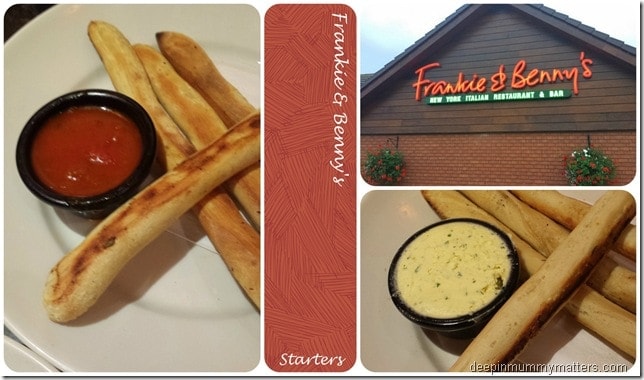 We both chose Dough Sticks for starters, Hubby went for a Neopolitan dip and I had Garlic Butter. In hindsight I preferred Hubby's Neopolitan as the Garlic Butter was a little too hard for dipping and it felt completely unhealthy to be eating lumps of butter. The dish made a welcome change on the usual dough balls though.
For mains I could have chosen Hubby's meal with my eye's closed – he opted for a Meatball Siciliana Calzone which is often his meal of choice, that or a mixed grill!! For those who haven't tried a Calzone before, it is basically a pizza folded in half and sealed around the edges. Usually his calzone is filled with salami, mushrooms, ham, peppers and a neopolitan sauce but the Meatball Siciliana Calzone was a welcome change as it had full sized pork and beef meatballs, beef bolognese, mozarella and spicy pepperoni. He demolished the whole lot so I think it's fair to say it was a winner for him!!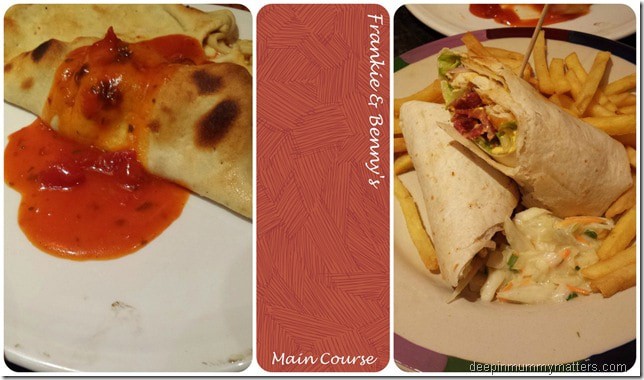 I am trying to eat healthier at the moment in a bid to lose my excess baby weight and so I chose a Philly Chicken and Bacon wrap which was really tasty. Had I wanted to be really healthy I could have chosen a side of salad but you've got to be a bit naughty when eating out so I chose chips as we never eat them at home. If I'm honest, although my meal was tasty it left me with an 'odd' taste in my mouth, perhaps it was the onions in the coleslaw or the spiciness of the Philly sauce but whatever it was, it became my excuse for a dessert too!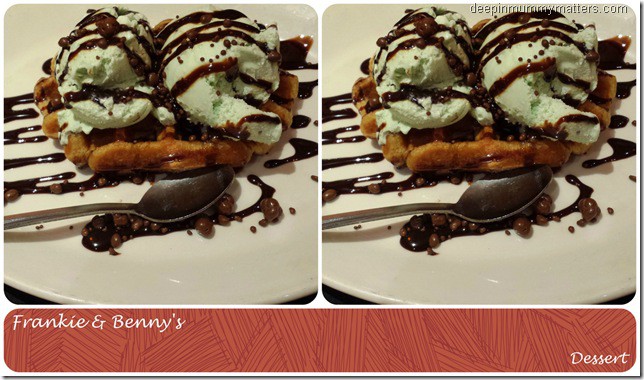 I wouldn't normally choose a Mint Chop Chip Ice Cream dessert of any description but as I mentioned I wanted to freshen my mouth up a little and had seen the Mint Choc Chip Waffle pass by my table a number of times and each time it because more and more desirable. Mint Choc Chip is Hubby's favourite so that's what he chose too – it was deeeelicious!!
As a restaurant it's good to be able to see into the kitchens and see how clean it all is, the restaurant was really busy and the kitchen staff didn't stop. On the diner's side of the counter there was one notably more efficient member of staff who we later found out was called Nick. He took orders, delivered meals and cleared away plates seemingly single handed whilst the two other female staff went about their business without any air of urgency. This didn't go unnoticed by other diners as you could hear many of them saying "that poor lad is serving this place by himself".
We took the time before we left to speak to Maddie, the Restaurant Manager to say how hard Nick had worked and how unsupportive the rest of the waiting team had been. Nick clearly deserved a medal!! Too often people are quick to complain but they often fail to congratulate when someone has done well.
Have you visited Frankie & Benny's yet? Take a look at their Specials Menu and see if anything takes your fancy!
DISCLAIMER: We were given a £30 voucher to pay for our meal for the purpose of this post. All words, opinions and images are my own and may not be copied without my permission. I have not been instructed what to write.