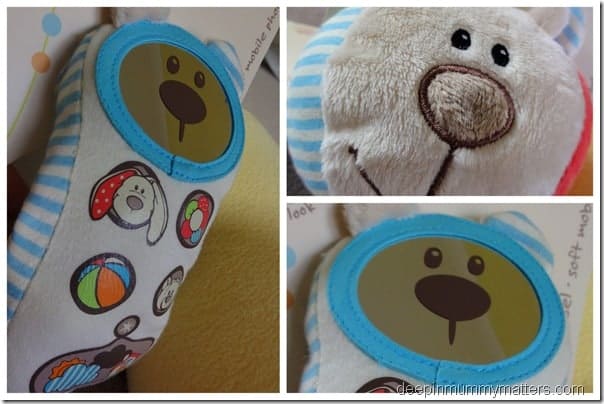 First Toys from NICI
New for 2012 from Great Gizmos' NICI collection My First NICI is a range of bears and bunnies made from the softest plush in beautiful colours – perfect from birth and beyond. My First NICI has a gorgeous collection of nursery accessories, first toys, booties and bibs. For bedtime comfort baby can snuggle with a super soft Plush Blanket and feel cosy and safe with the wrap around Cot Bumper.
We received a Soft Ball and Mobile which are beautifully soft and in lovely unisex colours which Beanie Boy loves. The mobile phone has a soft mirror which Beanie Boy can often be found checking himself out in, bright colour images act as 'buttons' and it has a rattle inside to reward movements with sound. You will often find him chatting to 'Nan' or 'Daddy' with a lot of 'yeahs', 'no' and 'ahas'. The Soft Ball is just that, very soft and squishy with a bell inside which tinkles as the ball is rattled or rolled across the floor. Beanie Boy loves sitting in the hallway with Little Bean rolling the ball backwards and forwards to each other.
To find out more about the collection or to find your perfect gift heard over to Great Gizmos today.