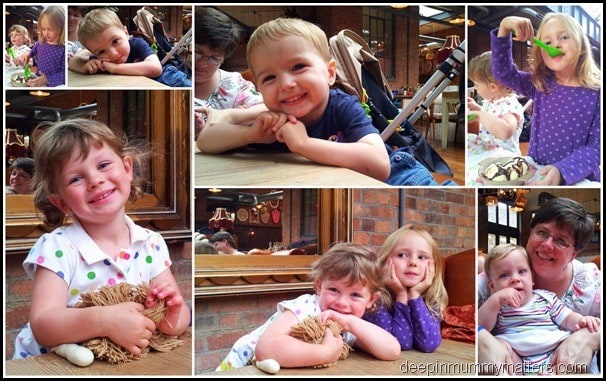 First day at school celebrations!
So yesterday morning I shared with you photographs of Little Bean all decked out in her school uniform as she set off on her first day of school. I had one of the most relaxing mornings I have had in a number of weeks, Beanie Boy went to bed and I managed to get caught up on emails, posts, housework and the food shopping – ok so it's not EXACTLY relaxing but I felt I had actually achieved something!
I wanted to make her first day at school as memorable as possible for her, especially since she wasn't going to the school we had hoped for and wouldn't be going with any of her old friends, in particular her best friend Ella. So I made plans with Karin to meet up with them after school for a special Ice Cream treat at a lovely eatery in Stamford.
When I collected Little Bean from school she came out full of beans, telling me all about her day. She said they had been for a tour of the school, sung songs, painted, played outside in the sand and by all accounts had a really fun day. She asked me "please can I come back tomorrow?" which made me giggle, I think it was fair to say that it was a successful start for her. I asked her if she had made any nice friends at school and she said "yes Mummy I made friends with T" but I reminded her that she had known T for two years now so he wasn't a new friend, had she made friends with any new children? She said "yes I made friends with a nice girl" so I asked "and what was her name?". She said "I don't know, I didn't ask!!". I'm hoping that today she actually manages to get the names of some of her new friends.
We went home and chilled for a little while until the time came to meet up with Ella, Karin and Sam. The one thing I hadn't factored on with Little Bean starting school was Beanie Boy's reaction. He was used to seeing Karin, Ella and Sam every morning, so when we got back into the car to come home he asked me "Ella? Sam?" and I had to tell him that we wouldn't be seeing them in the morning, his response? He burst into tears!!
In the afternoon we went over to meet Karin, Ella & Sam in Stamford, it was so funny seeing Little Bean and Ella's reaction to each other. They ran from opposite ends of the street into each other's arms like they were long lost lovers who hadn't seen each other for months or years. We went to a really nice place called The Cosy Club and spoiled ourselves with ice, Knickerbocker Glory, Brownies and Banana Splits – how about that for a celebration!!