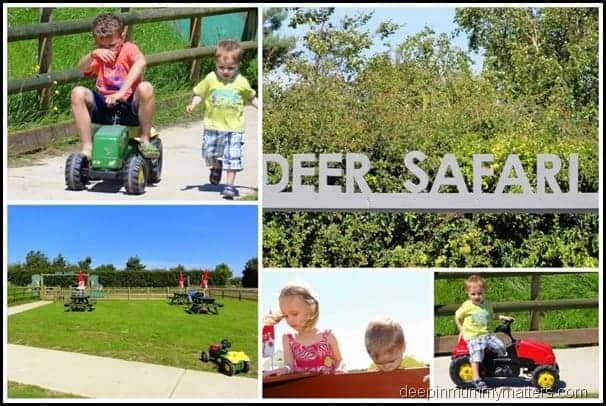 Family holiday – Snettisham Park
When speaking to some friends who live in Norfolk about what to do for days out with the children they recommended Snettisham Park for a fun family day. We underestimated the Deer Park enormously thinking we would probably only stay there for 1-2 hours before heading off to the beach for the remainder of the day but there was so much to do and see there we ended up spending about 5 hours there and having a thoroughly enjoyable day.
There was a lovely open picnic field with picnic benches and ride-on tractors to keep the children happy.
We bought bags of food so that the children could feed the goats which they thought was great fun. Beanie Boy surprised me the most as he wasn't at all bothered by them, Curly was a little more apprehensive to begin with and Little Bean (who we have nicknamed Miss Doolittle) was in her element with all the "cute" little animals. She especially fell in love with the little white baby goat who was very happy to meet Little Bean as she fed most of her bag of food to the one goat.
Next we boarded the Deer Safari Tractor for a ride across the fields to where the Stags live and were able to hand-feed them. I have never been so close to such animals, they were truly beautiful creatures and their antlers felt so soft and warm, nothing like I expected.
The Deer were a little more hesitant coming to see us but once they realised we came bearing food they were only too happy to pay us a visit and thanks to the children dropping most of the food around my feet, I got my own foot massage from the deer who insisted on licking my toes – ewwww!
When we arrived back at the farm Hubby took the children into the sheep barn, but of course being pregnant I wasn't allowed in so I had to soak up the rays of the sunshine in the peace and quiet by myself for about an hour – such a hardship!
Hubby said the children really enjoyed the sheep barn where they were able to bottle feed the lambs and then help to round them up and put them back in their pens. They met a very tiny baby goat and then they watched the sheep show where they saw a sheep being sheared and then saw real-life dancing sheep!!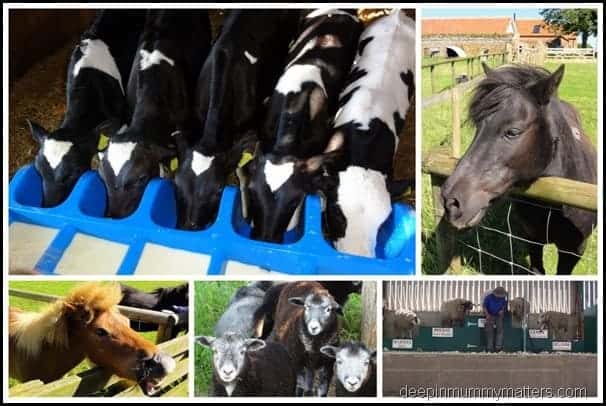 For our final foray at the Deer Park we went for a walk around the cow sheds, saw some pigs and then went up to see the Shetland ponies before making our way home.