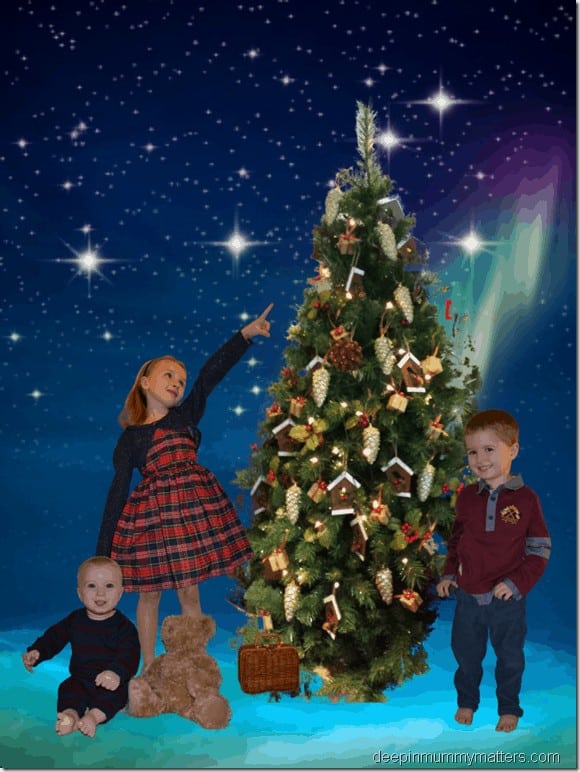 Our entry to F&F Children's Party Wear Competition
A couple of weeks ago I was invited along with 19 other bloggers to take part in a F&F Children's Party Wear Competition. We were each given a £50 eVoucher to spend on Children's Party Wear from the F&F range at Tesco. We could dress one child for the £50 budget or we could split the £50 over however many children we wanted. Not all of the clothes had to be from F&F but they had to be the main feature of the entry. I had a quick look around the website to see what took my fancy and decided to try to spend the £50 on the three youngest children in the family.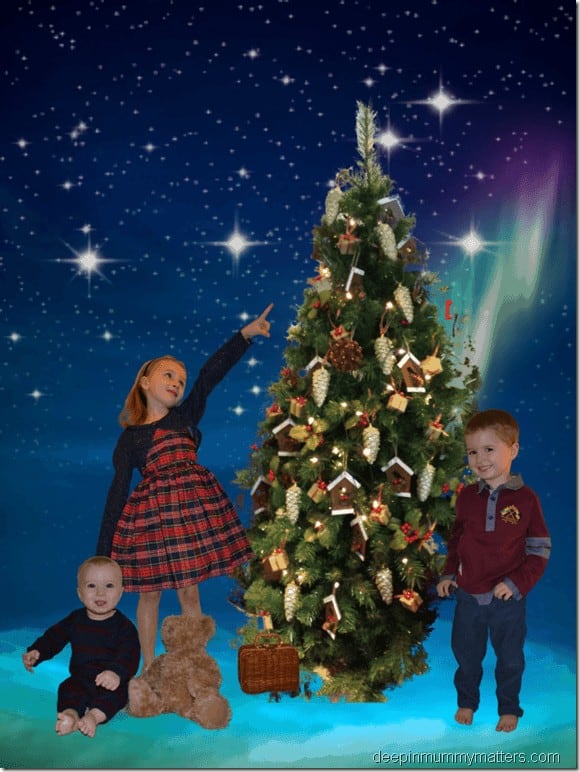 When it comes to special occasions, I don't really try to dress the children the same but I do try to dress them in similar colour themes so that they look good together. My first stop was the girl's department where Hubby and I spotted this gorgeous red and navy belted tartan dress which screams "CHRISTMAS" at you and then the navy bolero cardigan had silver thread knitted through it to add some sparkle. There it was, our colour theme was set so then it was just a case of looking through the boys and the babywear to find matching items for Beanie Boy and Jelly Bean. Beanie Boy looks so smart in rugby shirts so we really liked this rugby shirt which he wears with his own blue corduroy trousers and finally Jelly Bean is wearing a beautifully knitted baby suit in navy and burgundy stripes with reinforced knees and elbows, perfect now that he is crawling.
I ordered the clothes on a Tuesday evening and received a text the following day to say that they had arrived at my local Tesco and were ready for collection so the delivery didn't cost me a penny which was brilliant. All the clothes came well packaged and they fit perfectly. I have long been a fan of the F&F clothing range for children but I hadn't even thought about looking online for them before but let me tell you, I will be doing from now on as it will be so much easier than shopping with three small children in tow.
My Shopping Basket
Little Bean wears
F&F Tartan Dress – £18.00
F&F Metallic Knitted Cropped Shrug – £8.00
Beanie Boy wears
F&F Signature Chambray Mock Shirt Top – £12.00
Jelly Bean wears
F&F Signature Knitted Striped All-in-One – £10.00
Total Spend: £48.00
Creating the Photograph
Now as you can see, I couldn't just take an ordinary photograph of the tiddlers. I did toy with the idea of putting my Christmas tree up early but that would have been waaaay too early with a crawling baby to contend with so I decided to get creative instead. I took individual photographs of the children against a blank wall and gave Little Bean the basket to stand by her feet and Jelly Bean the Teddy Bear to keep him company. I then found a photograph of a Christmas tree which I snapped at the Tesco Christmas in July event I attended earlier this year and used Magic Xara Photo & Graphic Designer 9 Software to erase the backgrounds from each of the photos and rearranged them all together but something was missing, so then I popped over to DigitalPhotos.net and found this cool photograph by NuttaKit which I downloaded for free and added it into the background of my photograph and I have to say I absolutely love it! I think I just need to snap a picture of Curly now to add to the photograph and I've got myself a great Christmas card to send to loved ones this year!
DISCLAIMER: I was given a £50 eVoucher to purchase the clothing for the purpose of our entry to the competition. All words, images and opinions are my own and may not be copied without my permission. I have not been instructed what to write.