So on Saturday I toddled off down to London all by myself. With no children in tow I felt a little lost to say the least, I even had to carry my own bags because of the missing pushchair and that was a wake-up call in itself. Mind you I did have a rather lovely bag, or so people kept telling me.
The night before Cybher as I put together everything that I thought I would need, my kitchen worktop look like a gadget shop, I had everything plugged in so I had full charge for the day ahead, smartphone, camera, flip camera (well you never know), emergency phone charger, iPod, iPad and iPad keyboard. But of course the one thing I forgot when I packed my bag was my book to read on the train, I haven't quite got into the realms of reading on my iPad or iPod yet. So as the train pulled out of the station 20 MINUTES LATE!!! I sat back, plugged myself into the iPod, sat back and relaxed, something I rarely do. By the time I arrived in London I felt chilled and ready for the day ahead. I changed the music on my iPod from mellow to thumping and popped down to the underground for the final leg of my journey. Standing on the tube as it pulled up to the platform at Embankment I spotted a shock of red hair and knew instantly that it could only belong to the lovely Kate Sutton with whom I had been tweeting earlier in the morning. Kate was forming a conga line to Cybher so I joined in and got in line.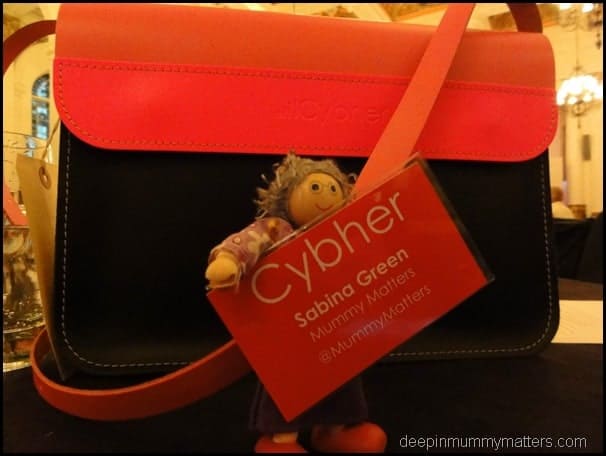 8 Northumberland was the destination for Cybher which was buzzing from the moment we arrived, Cybher women everywhere were recognising each other, exchanging hugs, kisses and business cards. Entering registration all eyes fell on the rows of gorgeous leather satchels in a rainbow of colours all emblazoned with the Cybher logo and filled with Cyher goodies. I chose pink and I love, love, love it!
The brainer bloggers among us quickly realised that if you scanned the QR code on the front of the notebook you could download the schedule for the day ahead, I was NOT one of the brainy ones and when I did try I got peeved with my QR code reader pretty quickly.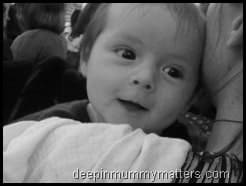 Down in the meeting room coffee, cookies and various other refreshments were ready and waiting to be devoured and a host of companies ready to tell us all about their latest releases, campaigns and projects. I flitted around like a birthday girl trying to greet all her guests, although it wasn't my birthday and they weren't my guests but as I began each conversation another face would move into my field of vision. It was especially lovely to catch up with Maria Halse and her new baby Elias who had flown back from Madrid especially for the event, how's that for dedication?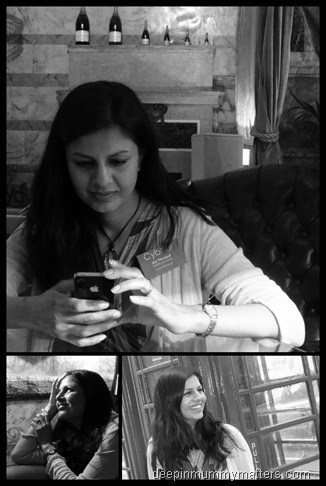 The best thing I took with me for the day was without doubt my iPad and Keyboard as it made note-taking so much easier. In my opinion the sessions had all been well thought out and planned, giving us the keypoints of information we needed to go home and make worthwhile changes or improvements to our blogs. I particularly found the Competitions, Ask a WordPress Geek and Photography session (see photos I took to the left) really useful and I have already begun putting their advice into action.
As usual the day passed far too quickly and thanks to my lack of planning (strange for me) I felt rather like a lost puppy as the day came to a close. I had no specific reason not to drink, or to stay late but I hadn't made any plans for afterwards and I'm not the sort to gate-crash or invite myself along to someone else's party so I snuck off before the end and made my way back to Kings Cross and managed to get home in time to read my babies a story and tuck them up into bed (after I had wrestled my new pink Cybher satchel from Little Bean – s'mine!).
So to Sian and all her Cybher team I would like to say "well done on a very successful first Cybher, it really was fab and I shall look forward to attending again next year".
To Fisher Price, I would like to say "thank you for making it possible for me to attend Cybher and I hope that our partnership can continue for many moons to come".
And finally to all the lovely bloggers who I spoke to, new friends and old (not age old!), thank you for making my day more special by being in it and I hope to see you all again soon.