Cow & Gate Fridge-friendly Growing Up Milk
This is a review post, all words and opinions are my own and may not be copied without my permission.
I was sent a 1ltr carton of Cow & Gate Growing Up Milk for the purpose of this post.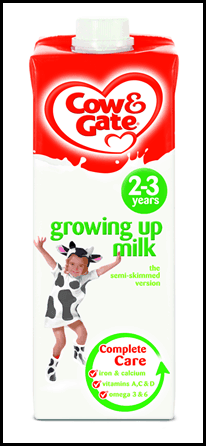 Having fussy eaters like I do, I have to make sure that they are getting their key nutrients from somewhere that I know they will accept easily. For Beanie Boy this comes in the form of Cow & Gate Growing Up Milk (1 to 2yrs) which is made with full fat cow's milk and provides almost three quarters of a toddler's recommended daily nutrient intake of Vitamin D. For those with slightly older children who are beginning to eat more solids, there is Cow & Gate Growing Up Milk (2-3yrs) which is a semi-skimmed version. Beanie Boy has two 150ml beakers of Growing Up milk a day to give him all the goodness he needs and this has been made so much easier since the new Cow & Gate fridge-friendly Growing Up milk was launched at the beginning of June.
The new fridge-friendly Growing Up comes in 1litre cartons which once opened (and resealed) can be stored in the refrigerator for up to 72 hours, making it a really convenient way of using and storing it. Just open, pour and store!
Available from Sainsbury's, Tesco, Boots and Morrisons at only £1.99 for a 1litre bottle.