Covid-19 Lockdown Diaries – Week 5
Well, the Easter Holidays have been and gone so we have been heads down with homeschooling again this week. During the Easter Holidays, I decided to start doing the Couch 2 5k Challenge to get me back into running again and it started out really well, right up to the point that I came back and lifted some heavy bags of gravel and put my back out.
Covid-19 Lockdown Diaries – Week 5
So now, instead of joining the children for PE with Joe each morning, I am stuck on the sidelines watching in agony. To say that I am annoyed with myself is a massive understatement. Whenever I start to build up any form of fitness, I do something stupid which sets me back again.
STEM Learning
The children were sent some STEM learning kits from Twin Science so they had lots of fun building the robot which powers the turntable to enable them to make cool pieces of art. They also learnt about the different colours which make up black and did some other fun experiments too. You can read all about it in the blog post we published.
Garden Circuits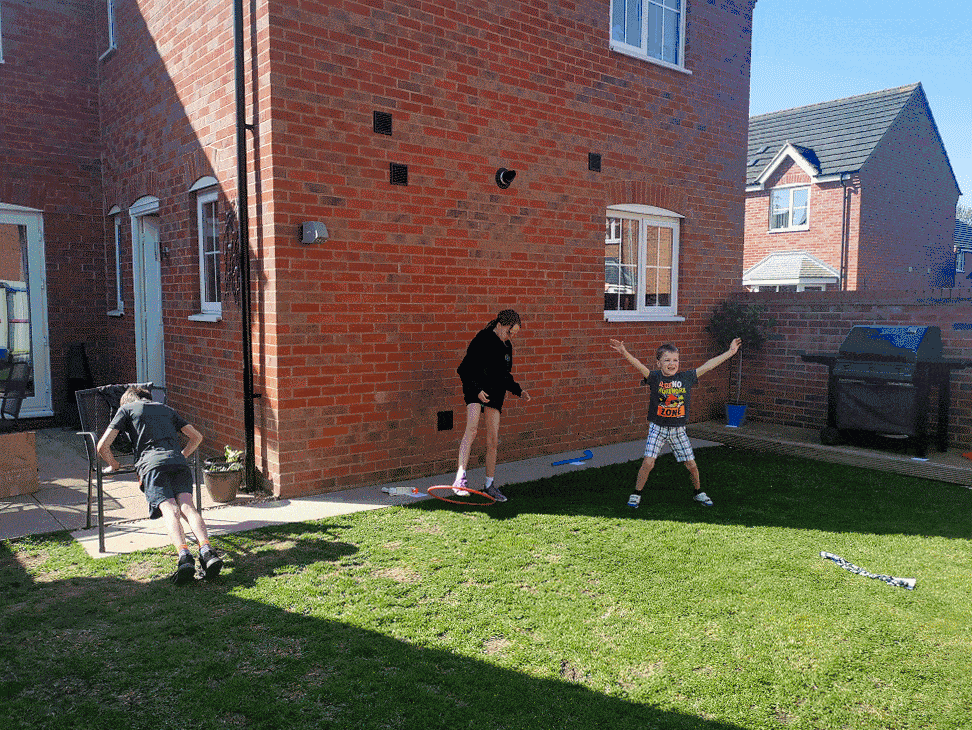 With me out of action and the children reluctant to do PE with Joe without me, I decided to make the most of the nice weather and set up some circuits in the garden. This was a big hit with the Beans who loved being outdoors and doing something different.
Daily Walks
We are so lucky to live where we do because we have miles of countryside on our doorstep which allows us (and the dogs) lots of lovely fresh air each day. It's funny how long you can live in a place and do the same walks day in, day out because you are generally time-limited. Since lockdown was put in place we have been able to try new walks and discovered places we didn't realise existed. It has definitely made us appreciate the world around us so much more.
Simon's Green Fingers
Early on into lockdown we spotted some beautiful plants and hanging baskets being delivered to some of our neighbours. I asked where they had got them from and discovered that a local nursery was offering socially distanced deliveries. We ordered a few trays of mixed plants and a hanging basket so Simon set to work on filling our planters and having the basket near the front door.
Passport Day – Denmark
This week an idea came to me that since we couldn't actually 'travel anywhere' perhaps we could bring some countries to us. I explained my idea of doing 'Passport Day' on a Friday afternoon to the Beans and they were very excited by the idea. Whilst I set to work on making them each a passport, they filled a jar with slips of paper with the names of the countries they wanted to visit. Each Friday we will select a different country.
This week Ollie chose Denmark. I used my Twinkl account to find Denmark related activities and the flag for them to colour in. I then created a small quiz and told them they could use their tablets and computers to help them to find the information.
This week on Passport Day we learnt:
In Denmark the people speak Danish
The official name of Denmark is Kingdom of Denmark
Denmark has a population of 5.5 million people
The Capital of Denmark is Copenhagen
LEGO was invented in Denmark
Denmark has it's own currency, the Danish Krone
Denmark borders Germany and is connected to Sweden via a bridge
Afterwards we had fun playing with Lego and watched The Lego Movie 2.
I wonder where we will travel to next week?
Football Training via Zoom
On Saturday morning it was back to football training for Ollie. His team have now set up training sessions via Zoom which which he really enjoyed. Again, I was reminded just how lucky we are that these sessions can still go ahead each week to give the children some sense of normality.
A walk along the River
We have lived in our current home for 10 years this October and although we have walked down to the river before, we have always 'turned left' and never right? I don't know why but during lockdown we decided to venture right and were blown away by how beautiful it is. I can see this will become a favourite for us during life in lockdown.