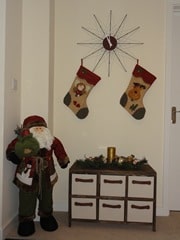 I've got lots to be excited about this Christmas –
1. It's Beanie Boy's first Christmas!!!
2. Curly is with us for Christmas Day this year.
3. This is the first Christmas which Little Bean is actually excited about because she is that little bit older.  As we drive around the town, or walk around the shops whenever she sees fairy lights, Christmas trees, decorations and who could forget Santa Claus, she gets really excited and shouts out – "look Mummy – Christmas!" – this year will be really special for her!
4. It's our first Christmas in our new house.
5. All of our family will be spending our special Christmas with us – it's going to be fantastic – I just know it!
What are you excited about this Christmas?
Latest posts by Sabina Green
(see all)