Countdown to Christmas-Day 7
This morning was Beanie Boy's official 1st Christmas Party, and he loved it!  I know what you're thinking, "he's 11 weeks old; how can he love a Christmas party," but seriously, he did.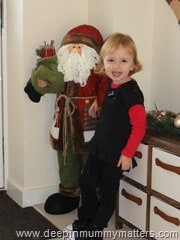 We only started going to playgroup about 4 weeks ago, but I'm so glad that we did.  Little Bean really looked forward to going each week and was so excited when she woke up this morning.  Whilst out shopping with Mum yesterday, we bought her a new outfit, especially for the party, and it was hung on her wardrobe waiting for her.  Doesn't she look cool?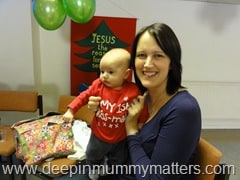 We arrived a little late as usual and so had missed the start of the Clown Act.  Little Bean isn't very comfortable around clowns and so stuck very close to Mummy, but Beanie Boy thought he was great, laughing and giggling at his funny face.  Little Bean and her best friend Little Miss (Cafebebe) amused themselves by playing with the toys that were out and dancing around with some of the other children who weren't fans of the clown.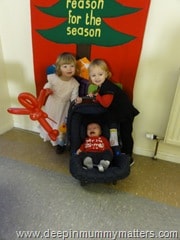 I was really impressed with the party; each family had to pay £1 to attend and take some food from the list – we took carrots!  For our £1 we got entertainment from the Clown, food for the children and the parents, an animal balloon, a normal balloon, a book for each child and a parcel of fun-size chocolates! Now that's what I call value for money!!!