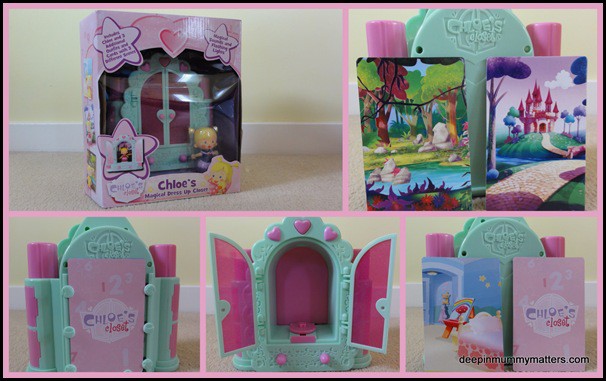 Chloe's Magical Dress Up Closet
Chloe's Closet is a children's cartoon show on Cartoonito aimed at 3-6 year old girls. Chloe is a brave and confident four year old who enjoys going on adventures with her friends Tara, Jet, Riley, Wizz, Soggy and Lovely Carrot. Little girls love to watch as Chloe climbs into her magical closet and is transformed into a new outfit and sets off on her adventures.
Since we don't have Sky TV we haven't actually seen Chloe's Closet but that doesn't meant to say that we can't enjoy the toys that Golden Bear have produced to accompany the show and allow role play to carry on into real life too.
We were sent Chloe's Magical Dress Up Closet which is a very cute and girlie playset featuring the Magical Closet, Chloe, two double-sided scene cards and three outfits for Chloe. On first impressions I was really impressed with the playset, it's well made, very pretty and not so big that it takes over your playroom but I was a little disappointed as I was under the impression that when you placed Chloe into the Closet she would magically transform into one of her costumes but that isn't the case. In the two columns on either side of the closet are doors which house the outfits, you need to select the outfit that you want Chloe to wear, pop it on her and place Chloe into the Closet and close the doors. On the back of the Closet you find the scene cards, select the scene for the adventure you want Chloe to go on and slot this into the closet behind Chloe and press the heart button at the front. Pretty magical music plays and the lights in the Closet twinkle so that when you open the doors, Chloe appears to have travelled to her new magical adventure land.
I think sometimes with these toys we need to remember they are for age 3 not 33 and as an adult we have often lost our sense of imagination, little girls will love this playset because they have the imagination to go with it and will love the role play aspect.
One final note though, if you do buy this for a little girl then make sure you give a pack of AAA Batteries too because they are not provided and we had one sulky little girl whilst she had to wait for Daddy to pop to the shops to buy them.
Also available from Golden Bear is a really cute Chloe Dress-Up Doll which is a very pretty soft doll presented in a Closet shaped box and comes with two outfits for imaginary fun and for the singers amongst you there is Singing Chloe Ragdoll who has two songs and two phrases.
RRP £29.99 from Golden Bear Toys