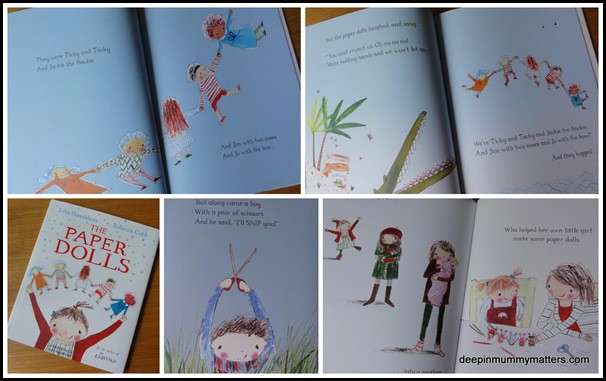 Children's Books: The Paper Dolls and Zoe and Beans: Hello Oscar!
The Paper Dolls by Julia Donaldson
Illustrated by Rebecca Cobb
From the author of The Gruffalo comes a great new story of child's play, The Paper Dolls. Julia Donaldson has struck gold again with this gorgeous tale of a string of Paper Dolls which a Mother makes for her daughter. The Paper Dolls goes on an amazing adventure through the house and into the garden. On their way they face the perils of a toy dinosaur and an oven-glove crocodile, but what will happen when they come face to face with a very real pair of scissors?
The Paper Dolls is the first collaboration between Julia Donaldson and Rebecca Cobb, a rising star in children's illustration. The story is lovely, especially the ending and the pictures really help to tell the story taking into account a child's imagination and how fantastical that can be.
"If you are already a fan of Julia Donaldson then this book has more in common with The Snail and The Whale, rather than The Gruffalo or What the Ladybird Heard. The Paper Dolls is a subtle exploration of loss and will provide a gentle stimulus for discussing this issue with young children – the over arching message is one of hope and comfort".
Published: 11th October 2012
RRP £10.99 Hardback
ISBN: 978-0-230-74108-9
Age: 2 years +
Zoe & Beans: Hello Oscar! by Chloe & Mick Inkpen
Some time ago we reviewed Zoe and Beans: The Magic Hoop! which we loved, so we were delighted to receive another book from this gorgeous series.
Whilst out playing in the garden Zoe stumbles across a guinea pig (or rabbit as Beanie Boy insists on calling them!), soon to be followed by a tortoise, a chameleon and finally a noisy parrot! Where have they come from and what are they doing in Zoe's garden but more to the point, where is Beans?
It turns out there is a hole in the fence at the bottom of the garden which might hold the answers . . .
Once again this book did not disappoint, the illustrations are so cute and child friendly, Little Bean loves them, especially Beans and the funny expressions the characters have on their faces.
Chloe and Mick Inkpen are a formidable father/daughter team who produce tales which capture the heart of the children and hold their imagination with the beautiful pictures.
Published: 11th October 2012
RRP £10.99 Hardback
ISBN: 978-0-230-76368-5
Age: 3 years +
DISCLAIMER: We were sent both of the above books for the purpose of this review post. All words, images and opinions are my own any may not be copied without my permission.