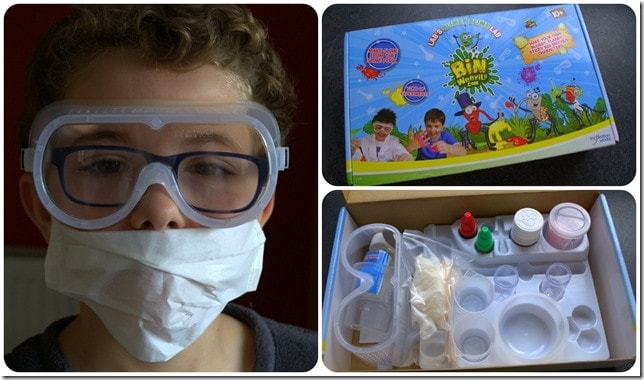 Bin Weevils Lab's Slimey Slime Lab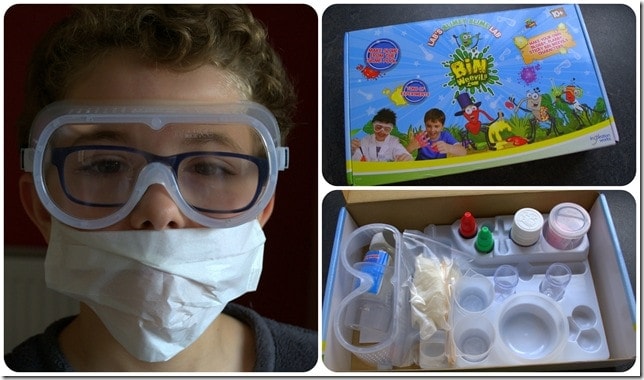 Curly LOVES it whenever we get something 'experimental' to review, I think he would make a fantastic 'mad scientist', the Curly hair definitely helps don't you think? At 12 years old I thought that perhaps this would be a little too babyish being a 'Bin Weevils' product but I couldn't have been more wrong. I think for a child slightly younger than Curly the Slime Lab would have needed more adult assistance but Curly was able to get on with this by himself without the need for assistance (unless you count Little Bean and Beanie Boy who were determined they were going to help him whether he wanted it or not – I gave them the role of Supervisors so they could only watch, not touch).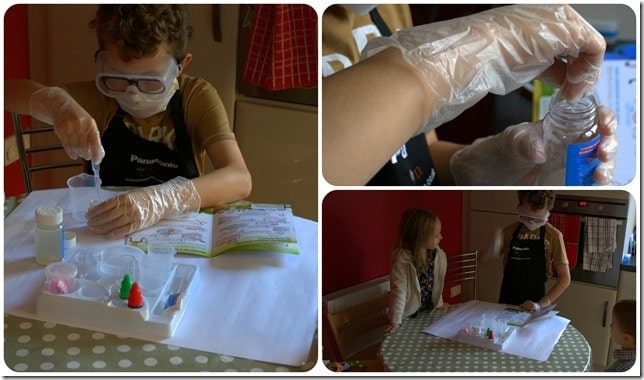 The kit is very well put together with easy-to-follow instructions. It begins with a Playground Language Warning for parents;
All children are fascinated by 'icky' things. Facing fears and doing "edgy activities" gives children self-confidence and courage. They love to shock adults too. We have created some especially icky activities requiring a lot of care and attention to detail. The payoff is – shock the adults. To hold the children's attention we have used playground language. Please read through and decide if you want your children to read it too. If not, you are in the hot seat and will need to guide your young scientist verbally – GOOD LUCK!
We read through the instructions and didn't find anything that we were unhappy with (and we are quite fussy about the language our children use).
All of the activities are safe and non-toxic but they do require special care and attention when taking part. From taking part in science lessons at school Curly knew that he needed to wear protective clothing including goggles and gloves.
Curly began by setting up his 'workbench' so that he knew exactly where everything was before making up the Alginate Stock Solution which would be used in further experiments.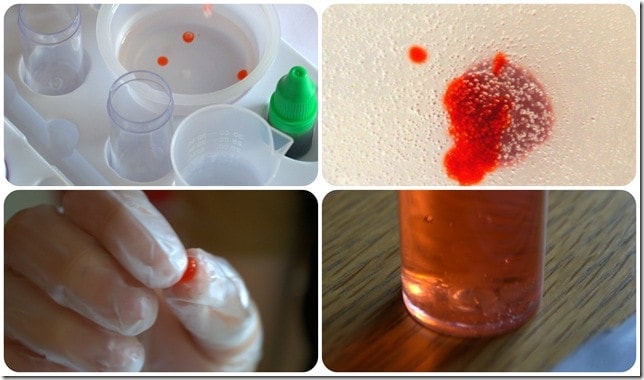 Curly decided to have a go at making "Fake Fish Eggs" which once removed from the 'bath' were squeezed between his finger tips. If he removed it quickly and squeezed it, the 'egg' burst but if he left it for more than 30 seconds the egg remained in tact. Curly discovered this was because the Calcium in the bath 'bonds' the alginate molecules starting from the outside. The longer you leave the egg in the bath the more calcium is soaked up making the 'egg' a hard gel all the way through. Curly said this was a really run experiment to do.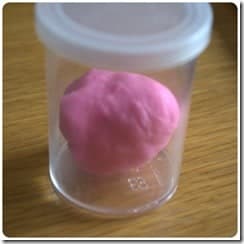 Unsurprisingly, the next experiment which took Curly's attention was the 'Fart Putty'. To do this Curly had to add 20ml off water from the Hot Tap into the big beaker and then shake in half a sachet of Sublime Slime powder then stirring with a stick. After a few minutes the putty was formed and able to be removed from the beaker and rolled in clean wet hands until it stopped being sticky. Next he rolled out the putty until it was flat, placed it over the opening of a jar and pushed it with his finger to create a satisfying 'fart' noise.
There are still a further 6 experiments that Curly can do with his Slime Lab including; Green Jelly Worms, Tadpoles and Leeches, Fragrant Rat Gizzards in Green Pea Soup, Invisible Jelly Fish, Blood and Clots and Bouncy Doo Doos. The RRP is £14.99 although I have seen it on special offer in lots of places and I think that is really cheap for what it is. These two experiments alone kept Curly busy for approximately 45 minutes, he didn't make lots of mess (although for hygiene reasons we did give the kitchen a good clean down afterwards) but I think he still has a good couple of hours experimenting left to do. He is not sitting staring at a screen and he can actually learn something from this so I wouldn't hesitate to buy it for Beanie Boy if he were older.
Age: 10+
DISCLAIMER: I was sent the Slime Lab to review as a KD Planet Ambassador free of charge. All words, images and opinions are my own and may not be copied without my permission. I have not been instructed what to write.