Ben 10 Ultimate Chest Badge
Some children's cartoon characters are a fad and only last a season but one which feels like it's been around forever and is still a big success today is Ben 10. Ben 10 appeals to boys and girls of all ages from the tiddlers to the pre-teens. Curly is still a big fan and was more than happy to review the Ben 10 Chest Badge as he has a great imagination and still loves to dress up to do a bit of role-playing as his favourite characters.
Ben 10 Ultimate Chest Badge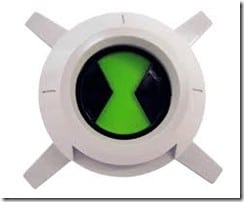 Wearing the Chest Badge the child can become their favourite alien character by twisting the badge through 7 different characters, with one press the Chest Badge lights up and the alien speaks. Press it again and spikes shoot out and the alien speaks again.
On first impressions, the chest badge was much larger than I expected it to be but this didn't seem to faze Curly at all. A medallion is worn around the neck underneath a t-shirt and then the badge screws onto the medallion through the t-shirt. Unfortunately, we didn't manage to screw the badge with the t-shirt in between so I think you need to use this on a very thin t-shirt, probably just buy a plain cheapie that you don't mind getting marked by the badge. Curly didn't let this put him off though, he just hung the medallion over the top of his t-shirt with the badge attached – problem solved!
Curly was really impressed by how much the alien voices sounded like the characters from the show but he thought that it would have been a bit better if there was a picture or something to show up so that he knew which alien he was selected without having to guess from the voices. He still had great fun playing with it, children don't really let the little things bother them!
It was nice to finally have a battery-powered toy actually supplied with batteries for a change as that is a big bugbear for me but I was a little surprised by the £20 price tag as I felt this was perhaps a little on the steep side for a dress-up toy.
For more information about the Ben 10 Chest Badge and other toys in the range from Bandai click the badge below.