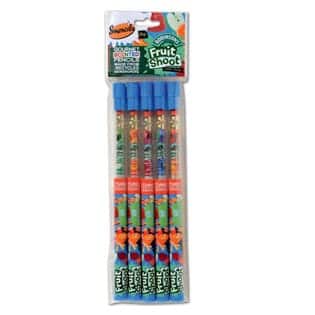 Back to School: Robinsons Fruit Shoot Smencils
It seems quite funny to be writing about going 'Back to School' when I think of Little Bean, although she has attended pre-school for the past 18 months, she hasn't really started school yet, that doesn't happen until Monday when she will be starting at her new Primary School and beginning her educational journey.
Thinking back to my old school days, the favourite time of year for me was always the end of the summer holidays when Mum would take me shopping for all my 'gear', you know the pens, pencils, paper, folders etc. Recently I had a blast from the past, my 'thing' at school was pencils and erasers, I used to collect them. Wherever my Grandparents went they would always buy me new pencils and erasers that were a bit different from the norm and one of those gifts came in the form of smelly pencils and erasers which honestly, I just wanted to eat. Robinsons have recently launched Fruit Shoot Smencils which are an aromatic sensation. We were sent a Smencils Starter Set which contains favourite Fruit Shoot Flavours – summer fruits (my favourite), orange (Hubby's favourite), Blackcurrant & Apple (Little Bean's Favourite), Tropical (Curly's favourite) and Apple. Each Smencil comes in its own plastic tube which preserves the scent for up to 2 years.
The Smencils are made from 100% recycled newspaper and the plastic tube is biodegradable so how about that for being 'Green'. A Starter Set is pretty reasonable at just £5.99 for the 5 Smencils and will make a welcome addition to your child's pencil case, I am sure it will also make them very popular with their friends!
For your chance to win one of 10 Packs of Smencils click here and answer the question but hurry the competition closes on Friday 14th September 2012!!!