BABY born® Funny Faces Crawling Baby (RRP £34.99) – one to win!
We've teamed up with the team at BABY born to giveaway a new BABY born Funny Faces Crawling Baby!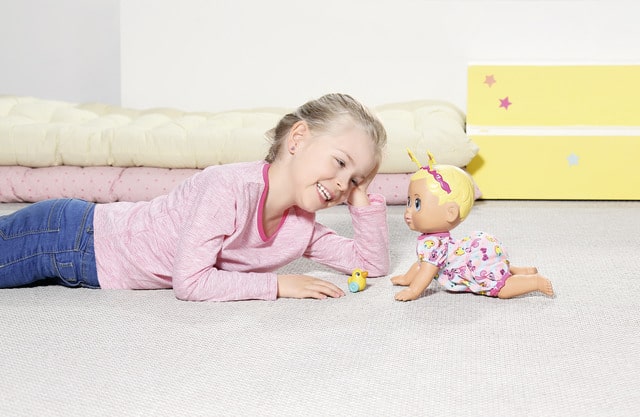 Cute Interactive Doll
Crawling is so much fun for BABY born® Crawling Baby, with her cheerful grin and big bright eyes. Simply press her heart-shaped tummy button and watch her move around the room with an adorable wiggle motion. BABY born® Crawling Baby also comes with her little friend, Berta the duck and a fun headband.
Suitable for ages 1 year and over. Requires batteries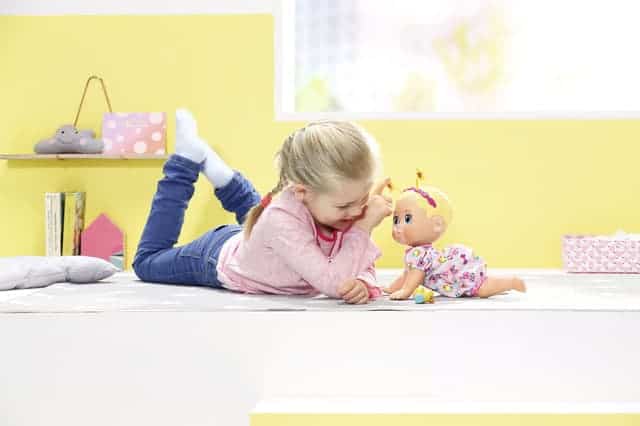 Features
Moving baby doll with cheeky expression and big eyes
Press the heart shape at the belly-button of the doll to activate crawling feature with adorable wiggling and giggling
Dressed in brightly coloured romper outfit
Includes cute headband with removable antennae and small duck accessory
Batteries Required: 3 x AAA (Not Included)
Baby Born Range
The Baby Born dolls were always Lillie's 'baby' of choice when she was a little girl, even Albie had his own Baby Born boy who he adored. These days the range has expanded massively and you can get so many gorgeous dolls and accessories, little ones really are spoilt for choice. There is even a Baby Born Advent Calendar which contains great surprises in Christmas style. There are 24 wrapped items of clothing and accessories for BABY born®, the BABY born® Sister and the doll parents.
I used to love watching Lillie and Albie play with their Baby Born dolls as they let their imagination take over in their parent-child role play. It also gave me an interesting insight into my own parenting style as they would often mimic things that I had said when talking to their 'babies'. Whether your child is looking for their own baby to indulge their maternal and paternal skills or they want a best friend to talk to, there is a Baby Born doll and playset for them.
Giveaway for Mummy Matters readers
With Christmas just around the corner, this could get someone's Christmas shopping off to a good start as I have one Baby Born Crawling Baby to give away. All you need to register your entries are to complete the Gleam entry form below. Entry can be as simple as the freebie or you can do more tasks for more entries.
Good luck x
BABY born® Funny Faces Crawling Baby (RRP £34.99) – one to win!