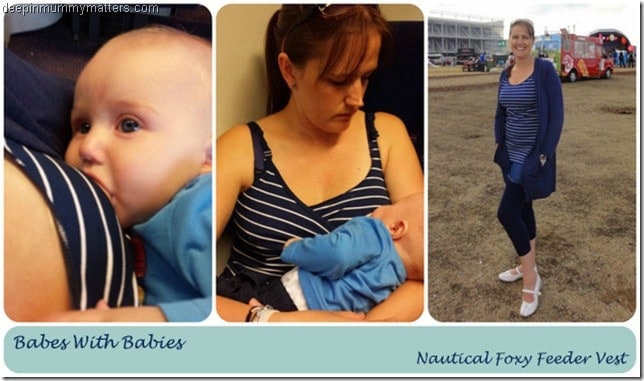 Babes with Babies Nautical Foxy Feeder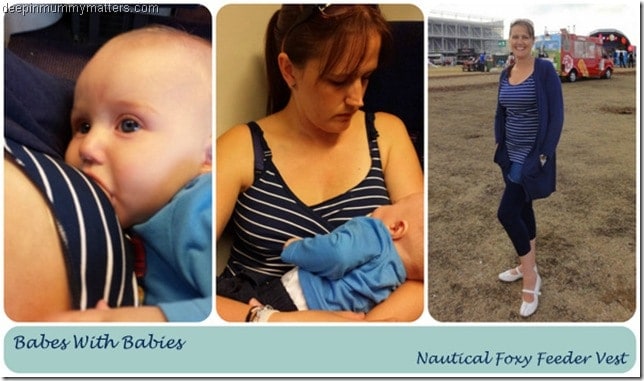 Breastfeeding in public can be a difficult affair at times, often there's lots of clothes juggling going on, or trying your hardest to get baby latched on whilst hiding them under a scarf or breastfeeding cover and then just when you think you have it all sorted baby decides to pull the cover out of the way and "hello world, have you seen my boobs?!"
You may remember one of my posts where I shared with you my favourite breastfeeding dresses? Well if you haven't seen it then pop over and read it now. One of my favourite dresses came from Babes With Babies and it is still going strong with me today (I think I will be wearing it beyond breastfeeding because I just love it as a dress – breastfeeding in it is a bonus). Babes With Babies sent me this Nautical Foxy Feeder vest last week and since the sun was shining for Lollibop on Friday, this seemed like the perfect opportunity to try it out.
I LOVE IT!!!!!!
Seriously, this was perhaps one of the most comfortable breastfeeding tops I have ever worn and it was soooooo discreet that my friend MumtoC even said to me at one point "I thought you was going to feed Jelly Bean whilst we're standing here?" and then I pointed out that he actually was feeding. She hadn't even noticed and she was stood right next to me.
You don't actually need to wear a bra under the Foxy Feeder but I can't leave the house without one, I feel naked so I still wore mine underneath and it's a good job I did too. The vest has two layers on the breast area, the top layer folds down to reveal a peephole layer underneath with a hole just big enough for your nipple to peep through for baby to feed. Now the one thing you don't want to do when you've finished feeding is to forget to put the top layer back up do you? Nope! Well I did, thankfully not for too long but long enough to be really embarrassed. As MumtoC said, if it had been a cold day I would have realised a lot sooner.
20% DISCOUNT OFF FOXY FEEDER FOR THE WHOLE OF AUGUST!!!!!
I honestly can't recommend this top enough, I didn't have to mess about under covers, I was cool and covered (most of the time) and will definitely be looking to get myself a couple more of these. For the whole month of August Babes With Babies are offering 20% discount off their Foxy Feeder Collection so grab yourself a bargain now.
DISCLAIMER: I was sent a Nautical Foxy Feeder Vest free of charge for the purpose of this post. All words, opinions and images are my own and may not be copied without my permission. I have not been instructed what to write.