Avant et Apres
Ok, so technically I mean "Before & After" but as I already have a post with that title I thought I'd try to be a bit fancy and go all French on you!  Well they do say that French is the language of love, non?  So it only seems fitting as I have decided to do an extra post for The Gallery this week with pictures from one of the best days of my life, my wedding day!  Now that we are settled in our new home I've finally been able to bring my PC out of the dusty old packing boxes and set it up again, oh how I have missed it, or more to the point, how I have missed my photographs.  This is where all of my old photographs are stored and I love looking through them every now and then.  Digital photography is brilliant but I do miss having a photograph album to leaf through when I'm feeling all nostalgic.  Little Bean is getting to a great age where she is really interested in looking at photographs so I've started showing her through some of them on my PC and she loves it.
This week we've been looking at our wedding photos which she loves, she thinks Mummy looks like a "princess" and I love it just because I look slim and glamorous!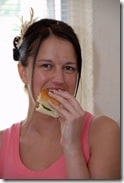 BEFORE!  Looking very "glam" just hours before the ceremony, what with waking up early and rushing around like a mad woman trying to get ready I was STARVING!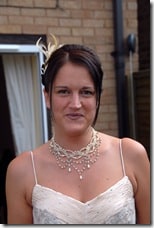 I had just put my dress on and was fighting back the tears – I really didn't expect to feel so emotional but the minute I put my dress on the waterworks started!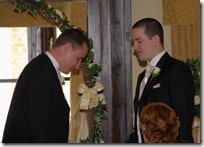 Hubby says this felt like the longest 10 minutes of his life, he thought I'd changed my mind – little did he know the Registrar had left me upstairs in a room on my own and I was officially "pooping my pants"!!!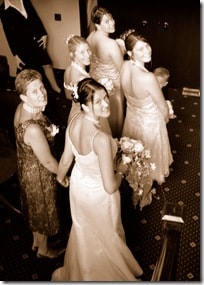 This was the moment I was about to walk down the aisle to marry my best friend, as the doors opened I'm ashamed to say my last words where "shit" as I saw all the faces looking at me – I'm such a lady!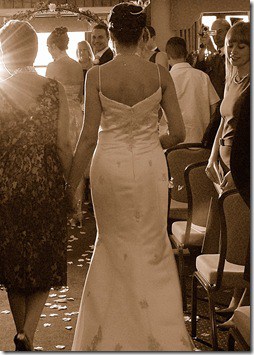 I love the way that Hubby is looking at me in this picture, such a welcome sight!
AFTER 
I think my face says it all!