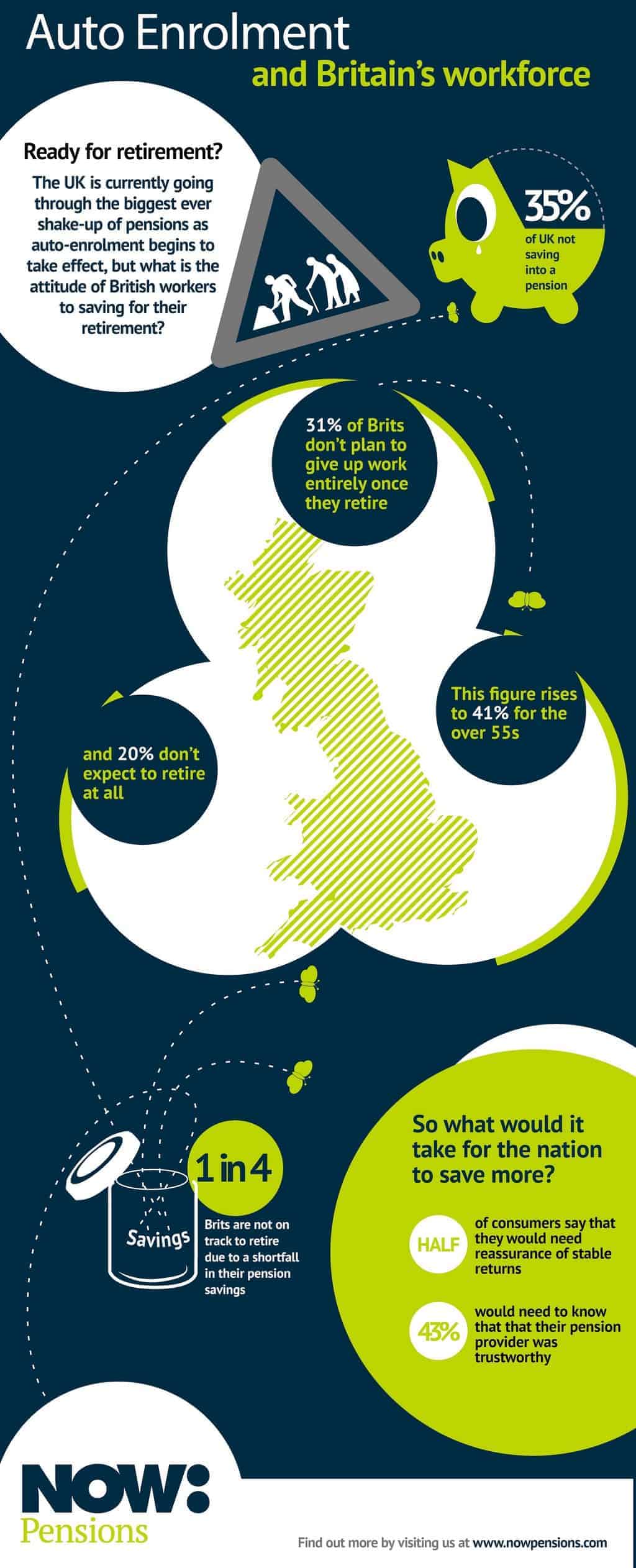 Are you planning for your retirement?
Or are you like me, it's on the top of my to-do list but somehow for the past 15 or so years I have managed to keep nudging it down the list to get around to later.
The past couple of years have shown just how bad things can get with regards to finances, the double-dip recession has hit a lot of people very hard and no doubt will affect them for a long time still to come. I think I would be right in saying that most people would like the opportunity to retire at some point in their lives, even if only to go into semi-retirement.
Since being a stay-at-home/work-at-home Mum I haven't really given much thought to pensions in the workplace and hadn't realised the changes that have taken place, the latest change to pensions in the UK is Auto Enrolment which is part of the biggest shake-up in UK Pension Schemes for some time. This infographic below show's the UK's thoughts on pensions and saving for the future? Where do you fit into these stats?
To find out more about Pensions and Savings to secure a comfortable retirement for you check out Now: Pensions.
Call the Wealth Within Institute now to fast track your share market education and begin the journey toward financial freedom.
If you are looking for a unique way to supplement your income during retirement a reverse-loan may be your answer. Also known as a reverse-mortgage or home equity conversion mortgage, such a loan can provide you with extra income each month. That is in contrast to a traditional mortgage you have to pay back in monthly increments. A reverse-mortgage lender should approve you for such a loan as long as you are of retirement age and can prove that you can continue to care for the home. Some offer reverse loan calculators to allow you to get a sense of the accessible funds you have. You will still own it for as long as you live in it. Therefore, you will still be responsible for paying fees associated with its ownership and maintenance. If approved you can pay the loan back at your leisure, but the balance will be owed in full when you cease living in the home.
DISCLAIMER: This is a Sponsored Post however I was not instructed what to write. All words are my own and may not be copied without my permission.