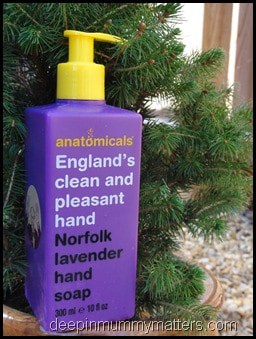 Anatomicals Norfolk Lavender Hand Soap
Where have I been? Dare I say until I was asked if I would like to review an Anatomicals products I hadn't actually heard of them and so my view on them was completely fresh. I hadn't been swayed by the hype I was just free to make up my own opinion but was it good or bad.
My first impression was "cool bottle", so many hand soaps just come in clear bottles which don't exactly look very special sitting by your sink (so much so in fact that mine are normally hidden in the cupboard under the sink!) but not with Anatomicals, it's so funky I want everyone to see it.
At the time that I was sent the bottle of England's clean and pleasant hand we were just about to head off on our holiday to Hunstanton and along the way we passed a Norfolk Lavender farm which is a sight to behold with fields of purple (and white which I didn't know existed) lavender flowers.
With small children we get through a lot of hand soap because let's face it, they are mucky little monkeys especially when playing out in the garden making mud pies and playing with stones! But when it comes to meal times I like to make sure that their hands are clean and fresh and germ free. Anatomicals Norfolk Lavender Hand Soap does exactly what it says, it provides clean and pleasant hands whilst at the same time transporting your mind (the children are too young!) back to a time long ago, playing in my Grandma's garden, running through the lavender (away from the bees!), it makes you feel nostalgic and proud to be British – not bad for a hand soap really!!
Grab your funky bottle of nostalgia from anatomicals.net or in store at Selfridges for only £3.50 for 300ml.