Allergy Week; Help keep hayfever at bay with Boots
Today marks the start of Allergy Week (23-29th April 2012) so I am going to be bringing you information each day of different products which can make your life a little easier if you are an allergy sufferer or if your children are allergy sufferers.

Instant melt tablets
No-one likes to be caught out by their hayfever symptoms – that's why Boots is one of the first to launch a hayfever product in a handy meltlet form. New Boots Pharmaceuticals Allergy & Hayfever Relief Instant Melts (14 tablets, £4.99) melt in the mouth in seconds, without the need to take with water. So if you're cheering for your team in front of a big screen in the park, off for a family picnic or simply on the school run, consider keeping these melts to hand. (Once daily dose).Contains 10mg Loratadine, always read the label. Do not gie to children under two years. Available from 14th March 2012 in most stores and on Boots.com.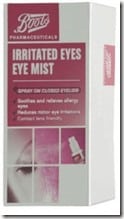 Nasal spray
You may want to consider Boots Pharmaceuticals Beclometasone Nasal Spray (100 metred sprays, £3.29), for powerful relief of sneezing, itchy and a runny nose. Its compact size makes it ideal to slip into your handbag as easily as your sunglasses. Contains Beclometasone Dipropionate, always read the label. Suitable for adults over the age of 18. Available from March 14th in most stores and on Boots.com.
Eye Mist
Boots Pharmaceuticals Irritated Eyes Eye Mist (10ml, £12.99) soothes and relieves allergy eyes and reduces minor eye irritations. What's more, it's contact lens friendly!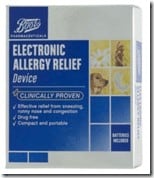 Electronic Device
The Boots Pharmaceuticals Electronic Allergy Relief Device (Batteries included, £29.99) is clinically proven to provide effective relief from sneezing, runny nose and congestion. Not suitable for under 6 years.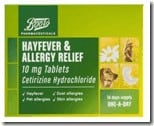 Tablets
For a cetirizine based product, you may want to consider Boots Pharmaceuticals Hayfever & Allergy Relief 10mg Tablets (14 tablets). This is an antihistamine to treat the symptoms of hayfever and year round runny and itchy nose and eyes. Each film coated tablet contains Cetirizine Hydrochloride 10mg, always read the label.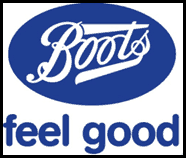 Hayfever: Quickfire Questions with Boots Pharmacist Angela Chalmers:
· When should I start taking hayfever medication?
"Prevention is better than cure with hayfever as it can take up to 2 weeks to fully recover from a bad hayfever attack. Often the hayfever season tends to start end of April/Mayday bank holiday for most people so be prepared."
· Which hayfever medication causes drowsiness?
"Loratadine is non-drowsy, Cetirizine generally is non-drowsy however a small amount of people may feel drowsy on it so it is wise to see how you feel."
· Do some people respond better to certain hayfever medicines?
"With the antihistamines, some people may get on better with one than others. Ask your Boots pharmacist if this applies to you so we can help you find a product that works best for you."
· Can you get stronger medication on prescription or is everything you need available over the counter?
"There are stronger prescription antihistamines and steroid nasal sprays available. Speak with your GP or pharmacist if none of the over the counter medications have worked for you."