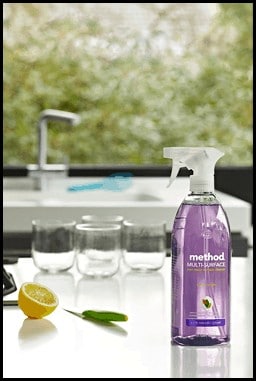 Allergy Week: A clean house is a method house!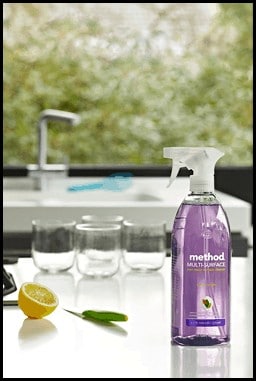 If you have allergy sufferers in your house then you know that you need to keep it clean to make their lives a little easier. Well let me tell you, a clean house is a method house!
method have some powerful new formulas with non-toxic, biodegradable ingredients which are naturally derived from plants to tackle tough spoils by absorbing the dirt instead of chemically degrading it like other household cleaners. The cleaners look great in their 100% recycled plastic bottles (and can be recycled again) and they have not been tested on animals. method are also great news for allergy and asthma sufferers because they are totally non-toxic they will not aggravate allergies either.
Adam Lowry; method co-founder and greenskeeper says: "powergreen technology is a breakthrough that takes method's performance and sustainability to the next level". "We're incredibly proud of this innovation because it solves one of the traditional problems in green cleaning – how do you clean effectively without dirty solvents? instead of formulating around the problem as others must, method delivers powerful solvency in our products through renewable alternatives".
I was sent a range of method cleaning products and my first impressions were how pretty they looked, they don't want to be hidden away in a cleaning cupboard like all other household cleaners, they are screaming to be left out on display. Once I began using the method products I loved how different the fragrances were, even Little Bean comments on how nice it smells when I clean the kitchen table with the mint fragranced glass spray although my favourite has to be the clementine Daily Kitchen and ylang ylang Daily Shower. We are converted, from now on we will be a method house too.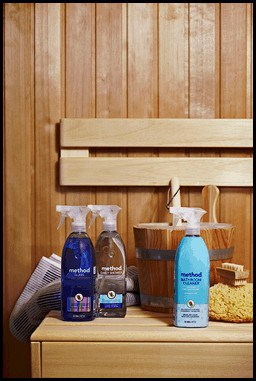 Their cleaning power is brilliant, they cut through the grease and grime with ease and leave no chemical residue. The Bathroom Cleaner and Daily Shower are great at showing soap scum the door leaving me more time to tackle the washing and ironing (woohoo lucky me!!).
method make cleaning products for people who want a better way to clean and are available from all major supermarkets – Sainsburys, Tesco, Waitrose, B&Q, Homebase, Ocado.com, Co-op and many small independent stores too. And if you're using method you're in good company as Stella McCartney, Gwyneth Paltrow, Brad Pitt, Laura Bailey, Lauren Bush, Donna Air, Rachel Bilson, Leonardo Di Caprio, Kirsty Gallacher and Erin O'Connor also used them (well most likely their cleaners do anyway!!).
All bottles are big value at only £3.06 RRP for 828ml.
For more information go to www.methodproducts.co.uk
DISCLAIMER: I was sent 8 bottles from the method range for the purpose of this review. All words and opinions are my own and may not be copied without my permission.